Free gifts to gain strength, balance and stability this holiday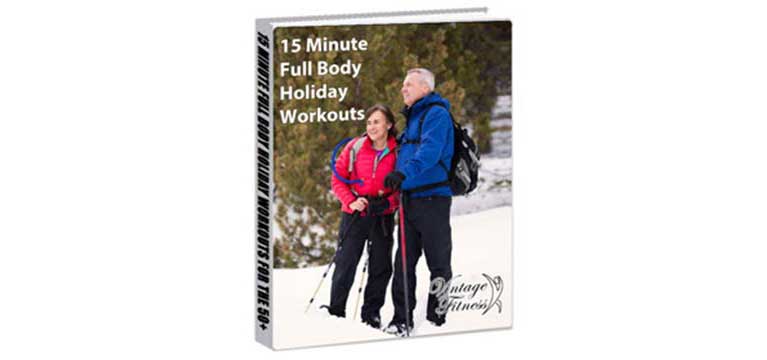 During this difficult time as this holiday season will be quieter than the one you planned, Vintage Fitness would like to make it easy for seniors to get stronger, improve their balance and stamina. The core values of Vintage Fitness are knowledge, empathy and grit. We work hard to embody these core values in every coaching session with our clients. It is grit that will keep us active during this CoVid lockdown holiday even when we feel fed up and unmotivated.
We have lots of resources to keep seniors moving with no risk of CoVid transmission:
Free ebook with 15 minute workouts for the holidays:
Download FREE eBook
Virtual training (over zoom) with a seniors fitness expert:
Virtual training for adults over 50
But:
"I am not tech savvy": If you have ever participated in a zoom call you can do personal training over zoom. If you don't have wi-fi we have tablets with data that we can drop to your doorstep.
"It won't work": We have dozens of clients that prove how effective virtual personal training can be for seniors:
Learn how Lena builds her confidence and strength
Read how Barbara got strong at 91
Read how Marianne improved her quality of life
Call (866) 471-0109 or book a call directly with Sid to get stronger and ease your pain this holiday season:
Book a call for a free consultation
Happy Holidays!
Erin
Vintage Fitness
Vintage Fitness is an in-home personal training company in Toronto, Canada. We specialize in energizing the lives of people over 50 with exercise.