Getting Strong with Virtual Training at 91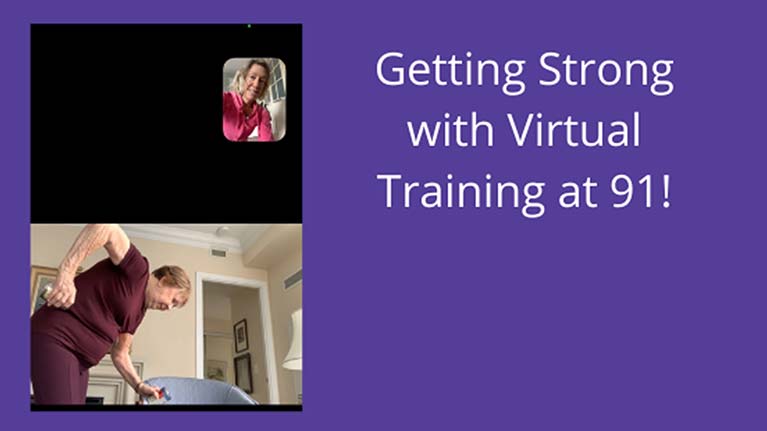 Barbara is an inspiring woman. Her son contacted Vintage Fitness concerned about his mom getting weaker and being isolated as the pandemic dragged on. At 91, she decided that she wanted to stay strong enough to keep living independently, improve her balance so she can walk on uneven ground and learn new skills as many of her activities were cancelled. Heather and Barbara were able to work together in person for a while until the lockdown hit Toronto. Barbara had some concerns about shifting to virtual training but had an amazing " I will try" attitude and it is working. Thank you to Barbara for inspiring the Vintage Fitness team with her attitude, humour and positive mindset.
Barbara's personal trainer thoughts:
When I first met Barbara ( 91 years old), I was already impressed!
She not only lives independently, cooks her own food, and still enjoys playing golf!
With the pandemic her usual fitness group classes were not running anymore.
We decided to meet twice a week and work on her strength and balance.
It didn't take long to realize I was dealing with a real athlete! "What is next!?!" is what she kept repeating to me and was always ready to add on with more!
We have a routine for her whole body and Barbara notices her increased fitness level. She said she isn't going to tell her family because now that she is so strong "they might make her carry things!"
We switched from home visits to Zoom and now she even calls me early for her sessions all ready to go with lipstick and earrings!
I am so excited to help you to be able to help you to reach your goal of having the strength to visit your family cottage this summer. I am so proud of you Barbara.
Book a call to book a free virtual session
Love,
Heather
Vintage Fitness
Vintage Fitness is an in-home personal training company in Toronto, Canada. We specialize in energizing the lives of people over 50 with exercise.