Client Success Story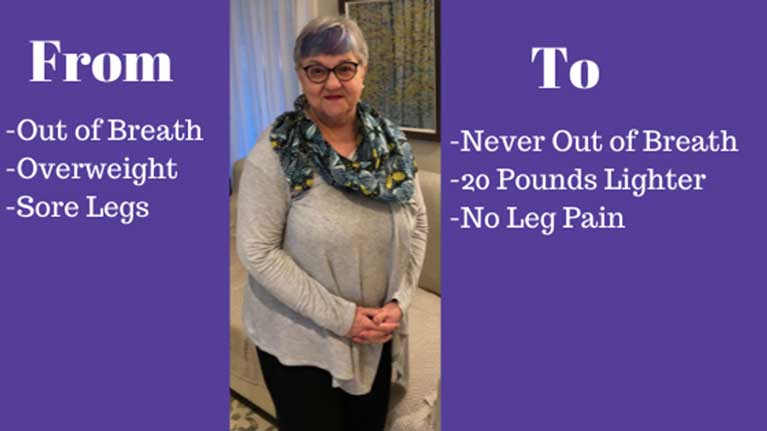 Marianne has made amazing progress with her health and fitness over the past year. She has trained in person with Vintage Fitness and then virtually and the benefits are paying off.
Marianne's Thoughts:
When I started I noticed that it was becoming difficult going up the stairs and this was very worrisome. Then I spoke with Vintage Fitness.
Since then
I am no longer out of breath-ever
I pay more attention to posture
I feel so much better having lost weight-
235 down to 216. I am so embarrassed about having gained so much in the first place
I am still on blood pressure meds but it has come down very nicely in both numbers
My legs feel better. I can't explain why but they do. I love the stretching exercises and leg work in the lesson. As well the balancing exercises have allowed me to improve balance. I did not know anything about this before starting the workout.
Going forward
I hope to continue the weight loss and make better choices in eating.
I hope to continue with the wonderful exercises
I would like to add that 45 years ago I was 125 pounds. Once I hit 50 the weight gain started. At work there were many stairs to climb and this helped a bit. But in retirement my days became more sedentary and this I continue to combat.
Thanks Erin for all that you provide for me in a better health scenario. Wendy proved to be a wonderful help and Tullio continues to do the same. Professional and fun. Yet properly demanding and thorough
Her Personal Trainer: Tullio's Thoughts:
Marianne is definitely a "doer", always pushing herself during our workouts and open to learning new movements.
When we started doing balance 2 months ago, it was quite challenging for her, now she's doing it with ease (that means it's time to add some new exercises, be ready Marianne I know you will)
Congratulations Marianne. The whole team at Vintage Fitness is so proud and impressed with you!
Book a call to for a free virtual session
Vintage Fitness Personal Trainer
Vintage Fitness is a personal training company in Toronto, Canada. We specialize in energizing the lives of people over 50 with exercise.