Donna's Arthritis Pain Success Story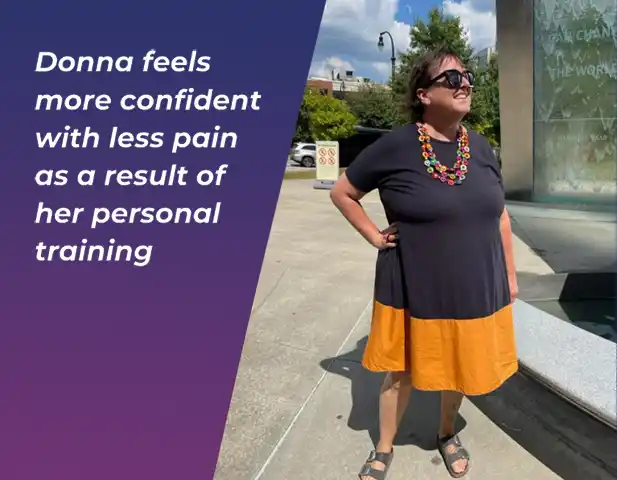 Donna was frustrated when the pain from arthritic knees and hips were keeping her from completing simple daily tasks, like walking her dog and getting into the streetcar. Kneeling on the floor to play with her dog was out of the question. Her loss of mobility, strength, flexibility, and balance left her frustrated and without confidence. Her goal when she reached out to Vintage Fitness was to rebuild her mobility, strength, and confidence.
"I'm amazed at the improvements in my balance and strength! Each time I return to the gym with Ana, I feel more confident in my ability to control my movements and tackle more challenging exercises," Donna states. "I have had a number of setbacks along the way, getting sick, and missing workouts, but Ana continues to be patient, supportive, and understanding. Most important to me, each week she comes to our sessions with joy, humour, and boundless encouragement. My partner noticing the lost inches and pounds is a welcome added bonus. I could not imagine having success like this with another trainer, and my physiotherapist is thrilled with the results."
Ana's thoughts:
When I first began working with Donna, I did not see the joyous person I have grown to know and enjoy working with. Her pain and lack of confidence were keeping her from shining. The weakness and instability of her joints meant. This meant that results took a little more time, but with my experience as an international physiotherapist, I was able to carefully adjust her exercises to protect her from additional pain and instability. We both have created a funny, dedicated, and strong routine that keep us on our goals and always laughing. Well done, Donna. Keep up with the hard work! All the success is on YOU.
Book a call to for free consultation
Good Luck
Erin
Vintage Fitness
Vintage Fitness is an in home personal training company in Toronto, Canada. We specialize in energizing the lives of people over 50 with exercise.