Ana Keeps Exercise FUN for Her Clients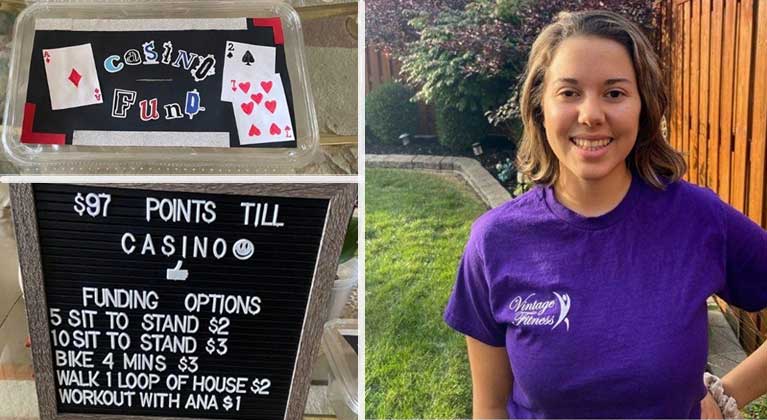 It is so important to keep having fun when you exercise. Ana, a senior's fitness expert, realized that one of her clients was feeling unmotivated to exercise. She spent time getting to know him and discovered that he loved playing games and going to the casino. Ana had the brilliant idea to create an "exercise casino" for her client where exercises were paid out.
This is a great example of thinking creatively about exercise and making it fun. This approach may not work for you as you are not a gambler but the concept is important. How can you keep the fun in exercise? Do you take time to sit quietly and think about how your body is craving to move?
Ana, the Vintage Fitness personal trainer that developed the "casino fun" thoughts:
A lot of people don't like exercise and a big part of that is that they haven't discovered what forms of movement they enjoy. It's like anything else if you don't think you have to do something and you don't enjoy it you won't do it.
I like including games or specially tailored activities to my clients to help them feel seen and bring joy to the exercise process. The more they enjoy it the more likely they are to reach their goals. This is especially important as depression can be high in older adults.
Making it fun for the client also makes it more fun for the trainer. I love crafting and creativity so it was also an outlet for me. When I can have fun with a session I can be more enthusiastic and hopefully a positive force in their lives
Other ways to keep the FUN in exercise:
Do it with a close friend
Move to music
Try a new kind of exercise (great for your brain health as well)
Shift your mindset from "I have to exercise" to "I am grateful my body can still exercise"
Stack it with an activity that you love such as only watching your favourite show after your walk
Book a call to for free consultation
Erin
Vintage Fitness
Vintage Fitness is a personal training company in Toronto, Canada. We specialize in energizing the lives of people over 50 with exercise.