Tony's Balance Has Improved During CoVid Isolation with Virtual Personal Training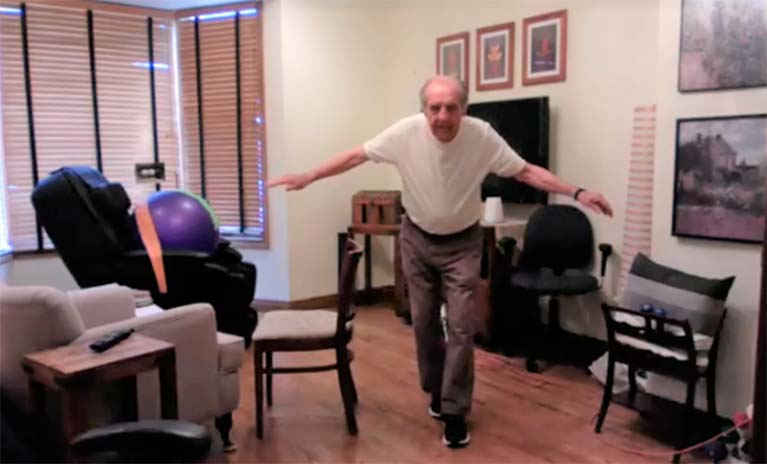 Tony lives in Guelph and has been training virtually with Vintage Fitness since November.  His daughter contacted us because she was concerned about her Dad, Tony's,  balance and stamina as the pandemic dragged on and the winter was approaching.  Tony  has an amazing mindset.  He knew that his balance was an issue and he wanted to use his isolation to get stronger.  Once spring and CoVid vaccinations arrive, he will be ready to get on his bike, enjoy his garden and have the energy to get out and see his friends and family.
In Tony's recent assessment with his trainer Tullio:
He did 20 Push-Ups in 30 seconds
16 Chair Squats (Sitting and Standing) in 30seconds
For balance, he did great in the Tandem Stance, just touching once the chair in 30 sec, for both sides.
He achieved his goal of getting stronger, and we are still focusing on balance on one foot.
Tony says "I am feeling confident with my exercise program and personal training is giving me more motivation to exercise on a continuing basis. I feel I am progressing toward my goals and my balance is coming around since I can now stand more on 1 foot up to 10 seconds, which I could not do before."
Would you like to improve your strength, balance, stamina before the spring arrives? 
Try our Stronger After CoVid Promotion

Good Luck!
Erin
Vintage Fitness
Vintage Fitness is an in-home personal training company in Toronto, Canada. We specialize in energizing the lives of people over 50 with exercise.