Carol is strong at 84 with personal training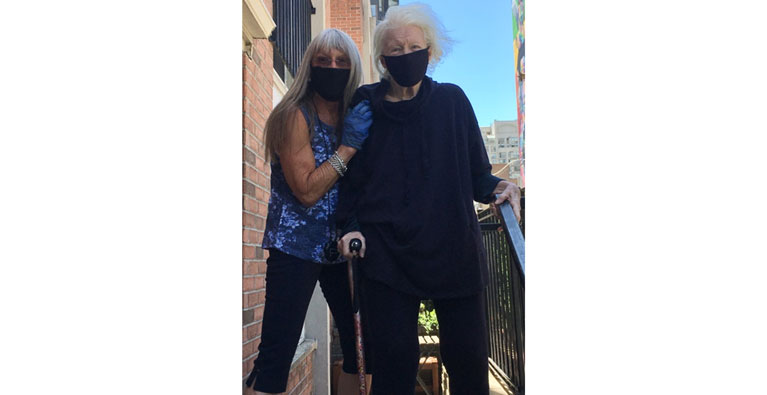 Thoughts from Carol's trainer Dee from Vintage Fitness:
Carol was a cultural whirlwind, subscribing to all Toronto's best theatre, ballet and TIFF movie extravaganzas - attending them with such curiosity, knowledge and so much passion. But then came a terrible incident with a couple of run-away Rottweilers, that threw her to the ground, broke her shoulder and dented her incredible spirit. She apparently changed, abruptly, from a vibrant, independent septuagenarian to someone who was fearful to go outside and could barely walk. And that is where I met her, on October 16, 2016 – with the clear but difficult goals to help her regain her confidence and her independence. She needed the strength and the stamina to walk boldly and surely again - not with those tiny, shuffling steps of a 100-year-olds. So she signed up with Vintage Fitness to find someone to help her achieve all those desires.
As I soon found out, Carol has a fierce determination and an unstoppable tenacity and - in what seemed like no time at all - we were doing walking lunges with bicep curls, squats like they were going out of fashion and taking sociable walks together up and down the blocks outside her Toronto home. And now we have a beautiful, well-read lady who has put up with the nagging from her trainer now for four action-packed years – but having regained so much of that confidence that had been lost.
We have been training face-to-face, three times a week, right through the pandemic, and Carol has almost never said 'NO' to a new exercise. There are admittedly times when she mutters that she is being "pushed much too hard", and that she is "totally exhausted again" - or when she'd refuses, point-blank, to do "another damn chair sit!" But maybe that could be because she'd already done 20 sits to a nice soft couch (which are far more challenging) and is now finishing another 20 sits on a regular chair. And that's frequently after having been subject to dozens of leg swings, far too many rotator-cuff pulls (with weights) and knee raises galore!
I am so grateful to have had this opportunity to work alongside this incredible woman for all these years. And to top is off – we just celebrated 400 hours of training together last Friday. I have been so fortunate to witness, first-hand, Carol's mastery over so much adversity - and now we are able to see her shining so brightly again. I am so VERY proud of her.
Book a call to for a free virtual session

Good Luck!
Erin
Vintage Fitness
Vintage Fitness is an in-home personal training company in Toronto, Canada. We specialize in energizing the lives of people over 50 with exercise.