Toronto Personal Trainer Helps Mother and Daughter 700km Apart Get Stronger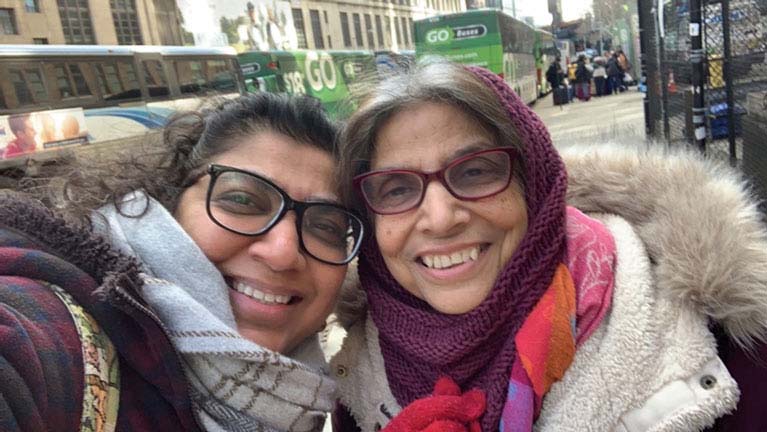 Getting stronger and more flexible with virtual personal training
Who would have thought that during a global pandemic with mother and daughter 700km apart they could build their strength, lose weight and improve their flexibility? I am so impressed with Moony and Virna and their Vintage Fitness trainer, Wendy.
Notes from Wendy
I first met the mother-daughter duo of Moony and Virna in December 2019. Moony, an avid neighborhood walker all her life, was looking to take things up a notch from the group classes at her local community centre. Not only did Virna have goals of her own, but she was thrilled to find an opportunity to share a challenge with her mom.

That's how we found ourselves in their condo discussing goals and making a plan for their Vintage Fitness workouts. We arranged to meet twice a week -first at the condo unit and then, after a while, at the condo gym.
These ladies both have a great sense of humour, so we added some music and away we went. I had not seen a more dedicated pair in a long time. Moony and Virna went above and beyond, working out together on a third day without me. They have a very supportive family encouraging them along the way.
However, circumstances changed along the way as they have for many of us since the Covid-19 pandemic hit. To be specific, in March they decided to make a trip to the United States. Virna went home to New York while Moony visited her daughter Reema's family in Boston. That's when then Covid hit.
But you know what? We did not miss a beat. They still placed a strong priority on having a routine for their mental and physical health. If anything, it was more important when one is facing such adverse circumstances. While we couldn't be together, they showed up on Zoom each week, always with a smile.
So here we are in October 2020: Moony is in Ottawa, Virna in New York, I am in Toronto, and we are still working together. Both of them have been getting stronger all the time, and their dedication has never waned.
Their goals have been met and surpassed. Moony and Virna, have more energy, are stronger and more flexible. Virna has lost 25lbs. Their blood pressure is down and their doctors are very pleased with the results. And now they are making new goals for the future. I can't wait to see what is next!
These ladies are such a joy to work with. Their enthusiasm and commitment are inspirational!
If you need motivation to strength train to improve your balance, posture and lose those CoVid pounds why not try a free virtual training session with a senior's fitness expert?
Testimonial
"Wendy has been terrific to work with! She creates workouts that balance and blend the needs for my Mom and myself, while still being challenging for the both of us. Taking time off to spend a year with my Mom was wonderful, but getting fitter with Wendy was the icing on the cake! Now we are both stronger, more agile, and our cardiovascular health is much improved. Most importantly, exercise and fitness have been incorporated into our daily lives. Amazingly we are all in different cities and our workouts are virtual. This has been true since March.
Over the summer Mom and I spent a week together in Vermont before she went back to Canada. We were easily able to go hiking daily, a wonderful way to deal with our challenging pandemic world. Being surrounded by nature and not huffing and puffing was a gift.
Our workouts continue even though Mom is in Ottawa, I'm home in New York and Wendy is in Toronto. They have become an important part of staying us connected and keeping our fitness a priority. I cannot imagine our lives without our Wendy Workout on Wednesdays!
Thanks"
Virna
Book a call to for a free virtual session

Good Luck!
Erin
Vintage Fitness
Vintage Fitness is an in-home personal training company in Toronto, Canada. We specialize in energizing the lives of people over 50 with exercise.