Personal Trainer Specializing in Falls Prevention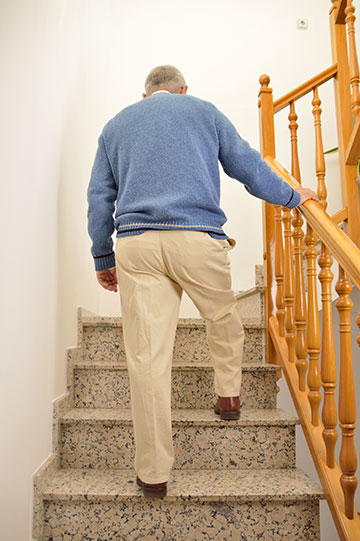 Can you believe it is already the end of January? One month into a new decade! If you're out in the stores this time of year, it's not uncommon to see health and fitness products as well as storage solutions prominently displayed. A new year is the perfect time for 'new beginnings'...we feel it's time to get a little healthier and add some organization to our lives.
As a Personal Trainer specializing in falls prevention, this is one of my favorite times of the year. Focusing on fitness and organization are two great ways for older adults to keep themselves safe by minimizing their risk of falls.
According to the York Region Healthy Aging and Fall Prevention website....
Falls are the leading cause of injury in people over 65 years old
Falls account for 85 per cent of injuries resulting in hospitalizations
Falls are related to 40 per cent of all nursing home admissions
These may be sobering statistics but there are things you can do to help reduce your risk of falls. Let's take a look at fitness first. Working on your balance is a great starting point. Did you know that everyone uses two different types of balance to keep from falling? One is called static (when we're standing still) and the other is dynamic (when we're moving around). Sometimes if we're out of practice, we have to challenge our balance in order to make it better.
In order to challenge our balance, it helps to have adequate lower body strength. Resistance training, whether it be using our own body weight, or using equipment such as bands and weights can make our leg muscles stronger. Squats, lunges and various seated exercises are just a few of the ways to keep our lower limbs strong.
There are times when falls aren't a result of our own fitness levels, but of the environment around us. In this respect, a little bit of organization goes a long way. The less cluttered our environments are, the more we minimize our chance of falls. Little things such as making sure that hallways are clear or extension cords are along the walls can help to reduce the risk of falls in the home.
Vintage Fitness can help you with improving your lower body strength and balance. We work with you in your home allowing us to also provide some suggestions on making your living space more falls prevention friendly. Feel free to check some of our other popular blog posts for some ideas on balance and resistance exercises.
The next time you are out shopping and stroll past a display of fitness equipment or storage totes, take it as a friendly reminder that fitness and organization are an important part of healthy living.
For more information on the importance of Falls Prevention and to book a free consultation with me - Your East York Trainer-, call 416-951-7978 or email info@vintagefitness.ca
What Should I do now?
Virtual Training

Need support?

Phone Consultation

Good Luck!
Erin
Vintage Fitness
Vintage Fitness is an in-home personal training company in Toronto, Canada. We specialize in energizing the lives of people over 50 with exercise.