Learn How Peggi Is Fighting Against Parkinsons and Winning!!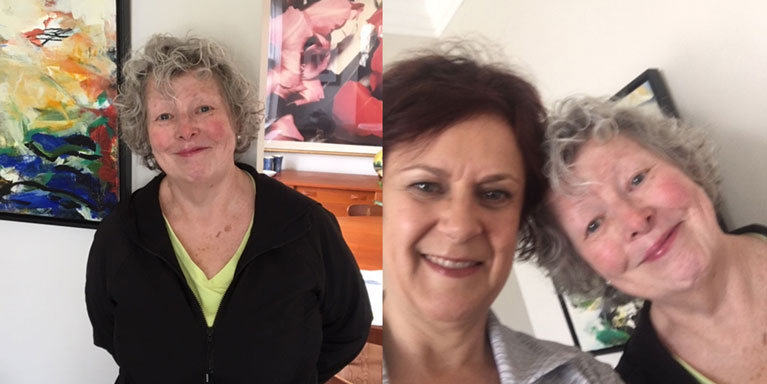 Wendy, a Vintage Fitness personal trainer has coached Peggi to be stronger, motivated to exercise and they are handling her Parkison's symptoms day-by-day as they emerge.
Wendy's Thoughts:
I am not a writer. I am a personal trainer that has been so inspired, I had to share this story.
It is my good fortune to have the opportunity to work with Peggi Mace.
This started a few years ago. She was still working at a full time professional position downtown. Peggi was very committed to bettering her health. So away we went. Once a week for an hour in her basement gym.
A year later she has progressed very well. She picked up a week end yoga class. And also did some exercises at other times on her own.
Now as she enters retirement, she also enjoys walking her sister's dogs, Charlie and Buster.
But then there was a snag in her future plans. Peggi was diagnosed with stage 1 Parkinsons Disease. As Peggi's usual style she took the bull by the horns. After much in depth research she made a plan. Her research said exercise is an integral part to managing Parkinsons. So away we go again. Picking up a second exercise session every week. And she bought an indoor bicycle.
And now Peggi is in the best shape she has been in years. 70 years young and holds a great 60-second plank. She loves a challenge and I do my best to give them to her. I always look forward to our sessions.
And by the way she has lost over 40lbs….how awesome is that?!
If you would like to learn more about our personal training program drop me a note erin@vintagefitness.ca or call me at 416-951-7978.
Good Luck!
Erin
Vintage Fitness
Vintage Fitness is an in home personal training company in Toronto, Canada. We specialize in energizing the lives of people over 50 with exercise.