Take your workout outside: Cardio Focus
An outdoor exercise program for older adults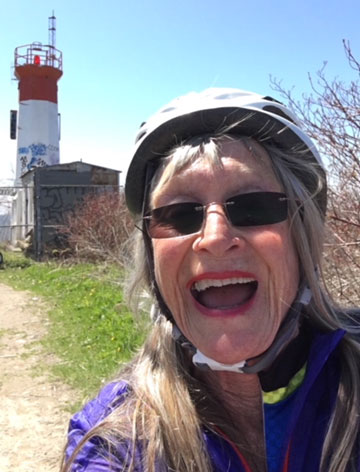 Meet Dee who is the picture above- she is 73 and a Vintage Fitness personal trainer. She loves getting outside for her cardiovascular exercise. This is the second blog in a series all about busting out of the gym and taking your workout outside with a focus on cardiovascular health. All that you need is an exercise band, a park bench or sturdy garden bench and some will power.
Week 1: Leg Strengthening
Week 2: Cardiovascular exercise (This Post)
Week 3: Upper body strengthening
Week 4: Balance training
Week 5: Flexibility
Cardiovascular exercise
Interval walk:
Shake up your walking route by adding faster intervals into it. Try 2 minutes regular pace and 30 seconds fast to start and work your way up.
Moutain climber:
This is a great exercise to get your heart rate up and work your core muscles.
To make it harder: Stand farther away from the bench to challenge your shoulders and core more.
Step ups:
Stay in stair climbing shape and work your legs and your heart with this exercise
Ball throws:
Work on your brain health as well as your heart health with this exercise
Good Luck!
Erin
Vintage Fitness
Vintage Fitness is an in home personal training company in Toronto, Canada. We specialize in energizing the lives of people over 50 with exercise.