Beverly Has Improved Her Balance and Strength With Exercise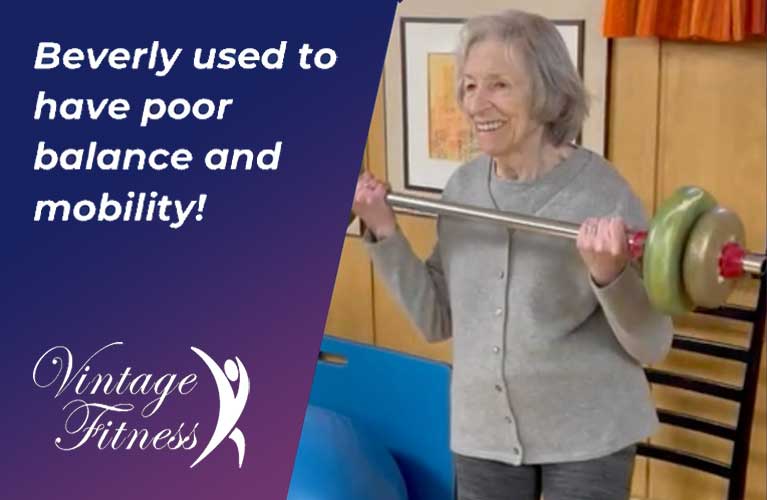 Beverly has improved her balance and strength with exercise
Beverly's Vintage Fitness Personal Trainer, Lorenzo's thoughts:
Moving through the loss of a loved one while managing a busy work schedule teaching online led to a rapid depreciation of Beverley's posture and gait. It was a struggle getting up stairs – suddenly needing both arms on a railing for support.
From January to April we worked together on leg strength, spinal mobility, flexibility and balance. I am happy to report that Beverley now speeds up the stairs. On top of it, she hardly relies on even a single hand; performing weighted exercises on the steps too.
One of the things we do in our initial assessment is measure balance. Astoundingly, standing in tandem (one foot directly in front of the other) improved from 10s to 2+minutes!!! What helps is Beverley is always asking for more challenges – she is very motivated to do better always!
Beverley's Thoughts:
Words cannot praise Lorenzo enough for how he has helped me recover from the sudden loss of my ability to walk and move about. Lorenzo has demonstrated his exceptional knowledge, his thoughtfulness, and his kindness in guiding me through the stages of my recovery and beyond, while carefully planning how I could achieve my goals.
Video
Here she is performing a banded Row to Twist to improve back, core and balance. Also, look at that smile as she performs her favourite exercise!
Book a call to for free consultation
Erin
Vintage Fitness
Vintage Fitness is a personal training company in Toronto, Canada. We specialize in energizing the lives of people over 50 with exercise.