Jeanne Is Managing Her Dementia, Feeling Motivated and Lost Weight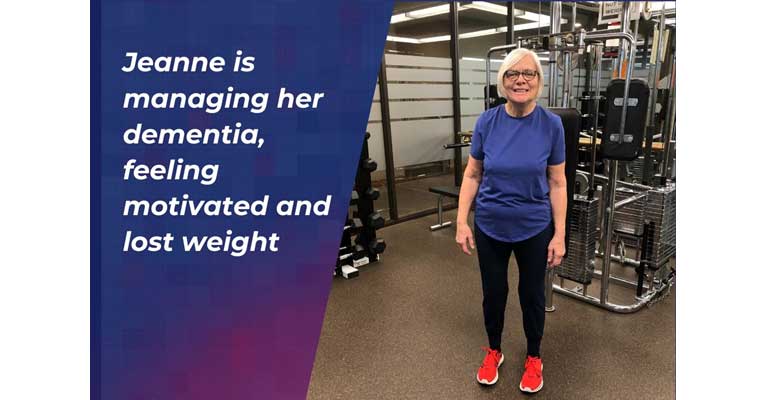 Jeanne has been a Vintage Fitness personal training client since September 2022. She joined because with early-stage dementia her doctor recommended regular exercise and she wasn't sure what was the best type of exercise for her. She is working with Catherine and we are so impressed with her dedication and results!
Jeanne's thoughts

"I joined VINTAGE FITNESS in September 2022. I have dementia and it is believed that exercise can help in stalling this disease. Catherine Heaton is my trainer. She was very adept at doing an Assessment of my physical and mental needs due to the fact that she has a great amount of expertise in Life Coaching and Physical Fitness. Her compassion, empathy and commitment to my needs has been top notch. She has helped me to create goals and smaller pathways to reach my goals. At the beginning of each session Catherine asks if I have any aches, pains or questions. If I say no, Catherine will add more reps to my program, or a new twist on an existing exercise or even a new exercise. This keeps me MOTIVATED! The odd time that I have a pain, she will analyze the pain and change up the exercise.
"The real test of my exercise with VINTAGE FITNESS and specifically Catherine: I just got back from LULULEMON, where I bought new exercise clothes in a SMALLER SIZE! I have not been in such great shape for many years! And my Dementia? I believe the EXERCISE IS HELPING!"
Jeanne
Jeanne's trainer, Catherine's thoughts
Jeanne has progressed tremendously since joining VINTAGE FITNESS in September 2022.
Her only issue is a shoulder pain from a previous
injury prior to joining VINTAGE FITNESS.
Jeanne's progress is impressive:
Balance is great
Strength is amazing
Endurance is superb (30 squats at a time)
While I can't measure how her dementia is
Jeanne is happy and looks forward to her exercise classes.
Book a free consultation
Book a call to for free consultation

Good Luck!
Erin
Vintage Fitness
Vintage Fitness is an in-home personal training company in Toronto, Canada. We specialize in energizing the lives of people over 50 with exercise.