At 91, Roger shows that a little goes a long way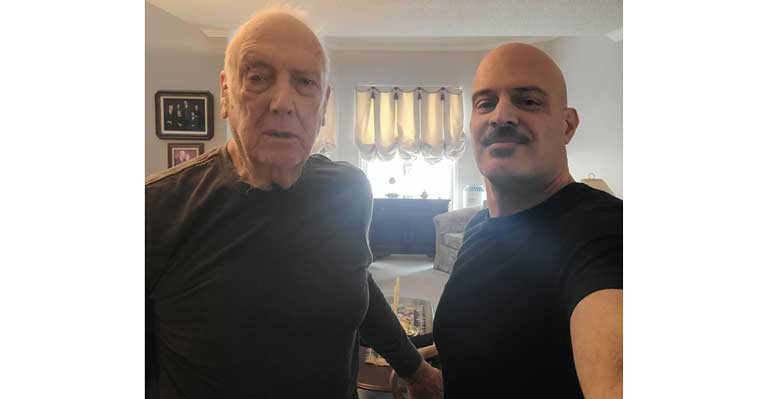 Roger's supportive children, Russell, Ann-Lorrain, Allison, and Arlene, contacted Vintage Fitness in December 2022. They were concerned about Roger's mobility issues, and wanted to know whether it was possible to help Roger retain his independence so that he could continue to live at his home.
Roger began training with Neville at the end of last year, on a twice weekly schedule. In this short period of a month, Roger's children have already noticed a change! They have told Neville that Roger's level of engagement, his confidence, and his demeanour, have been positively affected.
Roger himself, feels that he is making progress through the strengthening and mobility exercises which he accomplishes with Neville's guidance. Like many seniors who use a walker, Roger developed certain muscular imbalances and lower back pain, through pronounced forward leaning while relying on the walker for support. This is especially true for Roger, who stands 6' 1" tall.
Roger has knee and lower limb weakness, however, his upper body is quite strong for his age. Realizing this after his initial assessment, Neville began to help Roger by focusing on shoulder and upper back flexibility and strength. This prompts Roger to be aware to retract his shoulders, and enable him to stand a bit taller. It takes pressure of his hips while he is using the walker.
In addition, Neville has begun to help Roger develop a sense of increased stability while he is standing. Roger trains his legs through modified seated exercises as well as those when he is lying on the floor. Neville explained to Roger that "we are going to utilize the strength that you have, to help you maintain and develop further mobility".
On January 29, 2023, Roger turned 91 years of age. He is the pride of his family. Roger displays a seniors-can attitude, while showcasing that a little definitely goes a long way! Bravo Roger!
Book a call below for a free consultation to learn more about personal training in your home
Book a call to for free consultation

Good Luck!
Erin
Vintage Fitness
Vintage Fitness is an in-home personal training company in Toronto, Canada. We specialize in energizing the lives of people over 50 with exercise.