Joseph Agostino – Vintage Fitness Success Story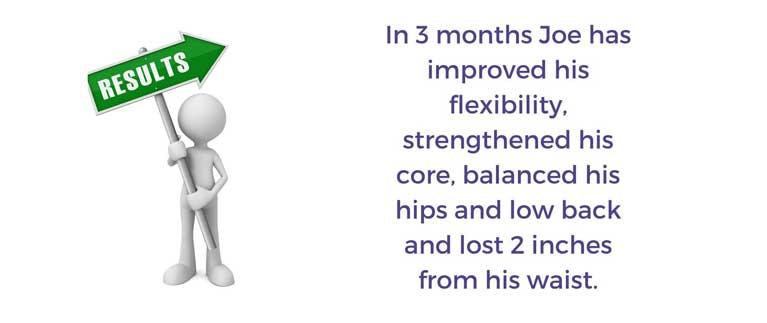 I am a 74 year old retired lawyer living in Etobicoke. About 13 years ago, I was diagnosed with high blood pressure and cholesterol issues, which is being successfully treated with appropriate medication. My work was a sedentary one resulting in poor posture, weight gain (specifically around the waist) and recurring sciatica discomfort in my left hip. I did not undertake formal exercise other than ballroom dancing for the last 17 years, which has had some positive impact on my health, particularly for cardio health. Attending a gym is not my preferred method of exercise so I was pleased that the training could take place in the comfort of my home with a trainer that specializes with seniors.
About 2 years ago, My wife and I were enrolling with Vintage Fitness to begin a program for fitness. However, the Pandemic intervened and the program was put on hold for two years. As the Pandemic constraints finally lessened, then we both enrolled in the Vintage Fitness program with Kristy.
I am taking three sessions per week at this time. My trainer Kristy, completed a very thorough assessment and developed the initial program to improve full body flexibility, treat sciatica, and improve diastasis recti, which I didn't even know I had. She spent the time educating me about things that I could do to help my posture, diastasis recti and sciatica, outside of the sessions.
I currently have a program for overall flexibility and core and hip stability and strengthening exercises to treat the current necessary goals. Over the short period of 3 months, there have been noticeable improvements in flexibility and in waist girth loss – an amazing 2 inches! My core feels stronger and my hips and low back feel more equal now in terms of flexibility and strength, resulting in no pain and a lot less discomfort.
I am motivated to do my homework regularly as I'm seeing improvements and have more awareness of my posture and ways to move safer. I will be working on advancing my fitness program under the steady eye of my trainer to include my other goals, once my first formal reassessment has been done. I'm sure more improvements will be revealed upon the reassessment.
Erin
Vintage Fitness
Vintage Fitness is a personal training company in Toronto, Canada. We specialize in energizing the lives of people over 50 with exercise.