Four Months of Vintage fitness Coaching Led to Transformed Stair Climbing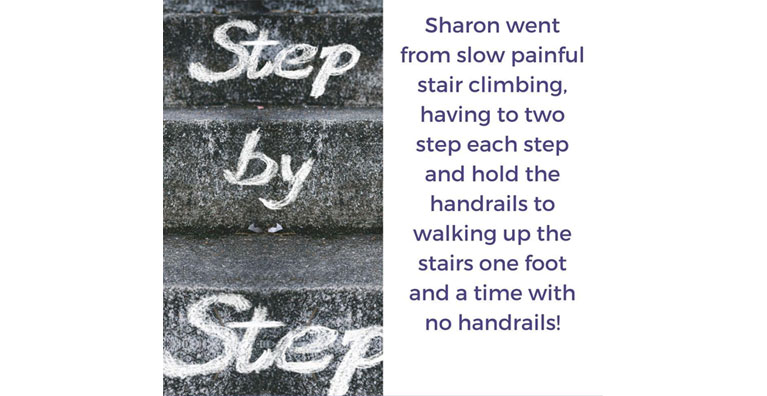 Sharon Harris is a 77-year-old retired educator living in Toronto. She had severe leg injuries and complications with her rehab. She was not able to walk up the stairs without two stepping each staircase and holding on to the rails for over 11 years. She also had knee and hip problems which weren't improving with her rehab exercises.
Sharon contacted Vintage Fitness in May 2022. After having an initial consultation call, Sharon joined the program and started her journey. On her first session, various assessments were conducted which revealed:
| | | |
| --- | --- | --- |
| Weak lower body strength | Lack of active range on the knees and hips | Weak core |
Prashanth, a Vintage Fitness coach, created a specific program for Sharon:

Sharon took 2 sessions per week. Prasnhanth gave Sharon exercise homework. He taught her the proper technique and how to perform the exercises that were given in the homework. She started to see significant improvement on the first few sessions where she started to stop two stepping the stairs and walked up the stairs with one foot per stair tread and no longer needed to hold the rails for support (Regular walking up the stair style). After 4 months of training, Sharon has become significantly stronger and her lower body strength as well as endurance has become so strong that she can go up and down the staircase for 7 times without a break and able to walk over an hour.
We are so impressed with the progress that Sharon has made with her personal training. One of the things that is most impressive is that she came to us after many attempts at achieving her health goals without success and bravely tried a new approach. It is this kind of grit that leads to amazing results.
Well done!
Erin
Vintage Fitness
Vintage Fitness is a personal training company in Toronto, Canada. We specialize in energizing the lives of people over 50 with exercise.