Virtual Personal Training Success Story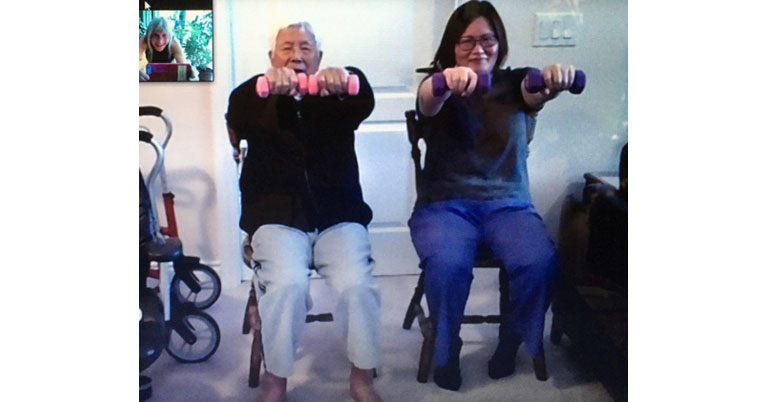 At 84 Danny is Getting Stronger and Improving His Balance with Virtual Personal Training
We are so impressed with Danny. He is doing virtual training over zoom with Dee who you can see in the top corner of the picture above. Danny's personal support worker does the training with him and is a great supporter of his exercise program.
Danny has made amazing progress in his training with Dee and his former trainer, Bill. Here is an example of a part of his recent assessment: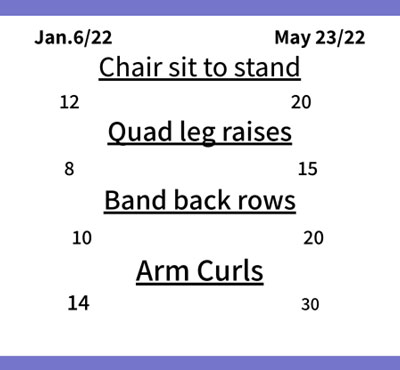 Danny has doubled his leg strength as measured by the chair sit to stand and leg raises and his upper body strength has improved dramatically as well.
Thoughts from Danny's trainer Dee:
As Danny's new trainer (just six months now - but definitely counting!) - I want to proclaim an enormous 'Shout Out' to our wonderful and positive Danny Eng.

As this incredible 84 year-old brings so much joy - and such great energy - and such enormous tenacity to each and every one of our weekly sessions. And I have to admit that when I took over his training – after his years of working so successfully with Bill – I was a little intimidated. But almost immediately I saw such willingness to try to his absolute maximum on every single new exercise that I gave to him. And he then started to tell me that we could do at least a hundred more repetitions of our bicep curls and our leg raises and, most especially, our chair sits that we do together!

When we started our sessions, Danny's main goal was to be able to walk and sit 'more easily". And after that he added that he wanted to increase his upper and lower body strength - as well as improving his visibly-starting-to-decline balance. And I have to tell you that Danny has already exceeded with all his goals – in spades – so time to make some new ones!! As from a willing spirit but a not-so-willing body – he has advanced from not being able to perform, for example, a full chair sit – to now being able to perform weekly 20 sit-to-stands in under three minutes - with no hands to help his balance nor to assist him stand up. Totally amazing! And in almost all his other exercises – the same incredible and positive improvements.

And his son Derek, and his brother, have been Danny's champions and cheer-leaders throughout Danny's on-going success story:
"My Dad has been training with Vintage Fitness for years now. My brother and I have seen the difference their training sessions have made towards improving our Dad's mobility, balance and quality of life. The trainers – first Bill and now Dee - are friendly, knowledgeable and enthusiastic and give my Dad something fun to look forward to every week. Thanks so much for all your invaluable help with my Dad".
Book a call for a free consultation with Prashanth
Erin
Vintage Fitness
Vintage Fitness is a personal training company in Toronto, Canada. We specialize in energizing the lives of people over 50 with exercise.