Exercise Will Ease Pain and Improve Function after a Hip Replacement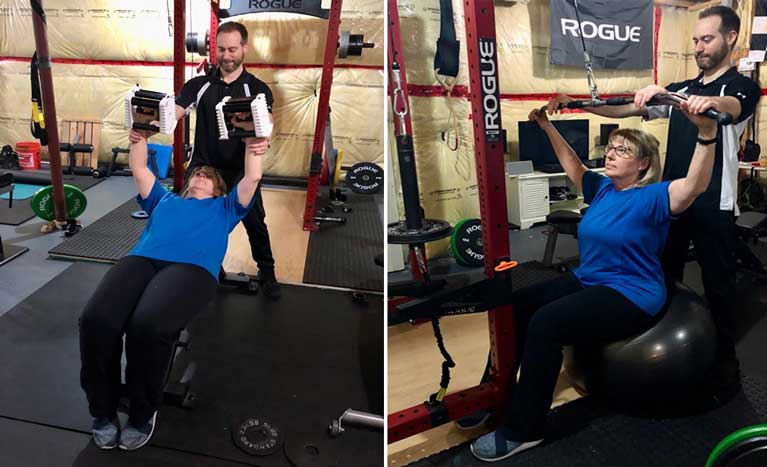 Congratulations to Maggie and her trainer Anthony. We are so impressed with her courage and dedication to start exercising following a challenging hip replacement. It would have been easy for Maggie to use her hip pain as a barrier to exercise but she realized that exercise was the solution to help her ease her pain and hip function.
Her trainer Anthony's thoughts
Maggie takes her health and fitness seriously, Maggie and her husband have always exercised for most of their lives. But when she had a hip replacement done a few years ago she was left discouraged and disappointed with constant pain and reduced flexibility and strength, which translated to difficulty in day to day movements and not being able to exercise as she once did. After 3 months of working together we have made great gains and progress in the strength, flexibility and mobility of her affected hip. She has reduced pain and is now able to exercise at a higher intensity level and perform those day to day activities.
Maggie's thoughts
I've been training with Anthony for almost three months now. I made the decision to begin this journey after having a hip replacement two years ago.
The biggest barrier I faced was a hesitancy about knowing how to exercise and stay injury free. I worried about how to regain some level of fitness, and if it were even possible.
Anthony took the time to listen to all my questions and concerns. He put together a program that challenged me, while teaching me how to exercise to stay safe, and to avoid injury.
Since starting in February, I have noticed improvements across all areas. Day to day tasks such as climbing stairs, carrying heavy grocery bags and gardening have become almost effortless. My stamina has improved. I recently completed a 5 mile hike without discomfort. I hope to complete longer hikes as my fitness improves. The added bonus of better fitting clothes means I no longer need to buy new clothes in bigger sizes!
Thank you Anthony, for helping me get to a healthier chapter of life!
Well done Maggie!
Would you like a free consultation to learn more about Vintage Fitness we can help you?
Book a call for a free consultation
Erin
Vintage Fitness
Vintage Fitness is a personal training company in Toronto, Canada. We specialize in energizing the lives of people over 50 with exercise.