Success Story: From Wheelchair to Walker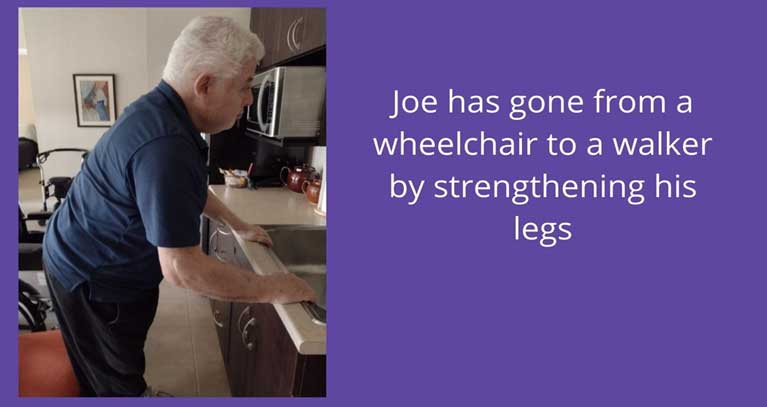 I am so impressed with Joe. He started working with Vintage Fitness in the spring of 2021 and has been working hard three times a week to build his strength, balance and stamina. One of Joe's main goals was to walk down to meals with a walker as opposed to having to use a wheelchair.
It was hard work but he did it! Joe now uses his walker to go down to meals. The first time he walked down to dinner everyone cheered. Joe told his trainer Bill that "walking down to dinner makes me feel human again".
What were the keys to Joe's success?
His attitude and willingness to try: Joe kept working hard session after session with Cory and now his trainer Bill. Despite his challenges he has a positive attitude and is always up for a laugh.
His roadmap: Vintage Fitness had a clear roadmap and understood what exercises at what intensity and frequency Joe should be doing.
Family Support: Joe's son David is a strong supporter of his dad's efforts to get stronger, improve his stamina and balance.
David's thoughts "Everything is really going well. Kudos to you and your team of true professionals. Both my parents and I are super impressed by the level of care and commitment of everyone involved. It is so rare to see these days and we think Vintage fitness is doing an exceptional job". Family support makes the difference in times when progress feels slow.
A big congratulations to Joe. You are an inspiration to the whole team at Vintage Fitness. Our core values are knowledge, empathy and grit and you model these behaviours for us everyday.
Book a call to for free consultation

Good Luck!
Erin
Vintage Fitness
Vintage Fitness is an in-home personal training company in Toronto, Canada. We specialize in energizing the lives of people over 50 with exercise.