Vintage Fitness Clients Success Featured in the Globe and Mail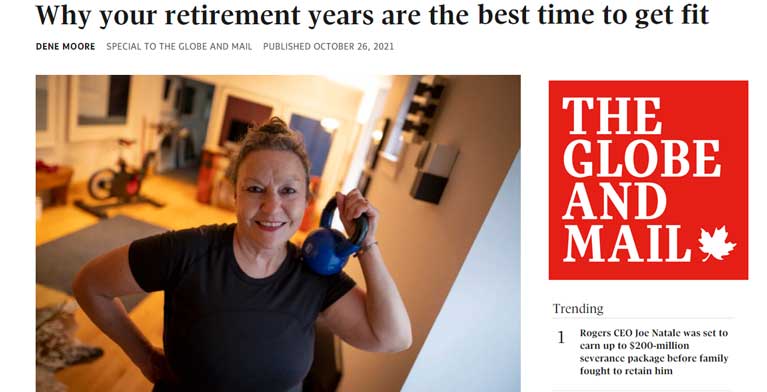 A big congratulations to Kathy who was featured in the Globe and Mail this week. Her story will motivate you to get moving at any age. Here is the link to the article:Globe and Mail Article Link
Here are tips and tricks from Kathy's trainer Cory:
Kathy reached out to Vintage Fitness in April of 2020 just as COVID was still a bit of a 'novelty'. Kathy was slowly recovering from a complicated fracture and was trying to figure out how to stay strong and active whilst at the same time allowing her leg to heal...and she needed to do it from the comfort of her own home.
I started working virtually with Kathy at this time and since then she's never ceased to surprise me with her commitment to exercise as well as her steady progression in strength...not only physical but mental.
Progression should be a slow and steady and SAFE pace. We worked together to come up with a program that provided her with the benefits she was seeking...gaining strength - both upper and lower body, while at the same time recognizing that because of her injury, she had to do exercises that placed no stress or weight on her leg. She took it as a challenge and working with proper form and technique, has made steady strides in functional strength. Kathy is completing exercises using various pieces of equipment to allow her to become stronger in all of the muscles surrounding her injury...therefore putting her on the road to a more speedy recovery.
During training, Kathy had some issues with healing stemming from complications, but she never let that stop her. In fact, her strength training allowed her to navigate her second surgery more easily than the first...noting that she was able to use a walker more easily, get in and out of her bathtub without assistance and even get into her husband's big 4x4 truck without asking for help.
Training 3 times a week virtually, Kathy has progressed to using weights (safely!!!) that she never felt she would be able to manage. In fact, she's proud to be using 25lb weights for a lot of her upper body strengthening exercises and we're looking to improve even on that in the next few weeks. And...because her weight bearing status has changed and she can walk on her foot, we're working on restoring lower body strength to her previously injured side, with a strong foundation already in place to support recovery.
It's been a huge pleasure working with Kathy as a client. She should be incredibly proud of her journey thus far and I can't wait to see where 2021 takes her!
Book a call to for free consultation

Cory Hanna
Vintage Fitness Personal Trainer
Vintage Fitness is an in-home personal training company in Toronto, Canada. We specialize in energizing the lives of people over 50 with exercise.