Fed up of Getting Weaker and Heavier in Lockdown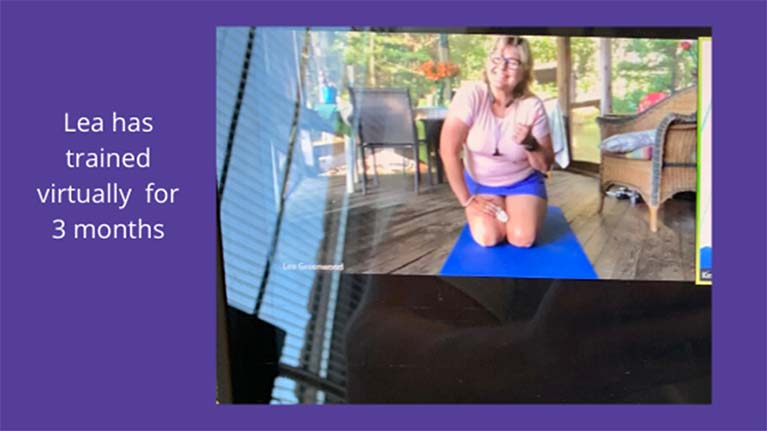 10 Motivational Tips To Get Moving
We have been in lockdown for 10 months with no clear end in sight. At the beginning of the lockdown when gyms and condo gyms closed it was tempting to plan to hunker down and wait it out. If that was your plan you are putting your health at risk by not changing your mindset and using technology to coach and motivate you to keep moving.
Vintage Fitness is a personal training company that ONLY works with seniors. Some of our clients decided to try to wait out the pandemic and unfortunately, they have gotten weaker, heavier and struggle with low energy. The bulk of our clients adjusted their mindset and decided to continue to personal training using technology. I am so impressed with their results and the new skills they have learned along the way. Here are 10 tips from our clients that continue to train using the computer and have gotten stronger, improved their balance, gained more energy and lost weight.
It won't work if you don't try: We all need to adapt to things being a bit different and virtual training is personal training re-imagined. If you start out sure that it won't work and don't try a free session it definitely won't.
Keep it fun: Many clients are training virtually with friends over zoom to have a visit, get fit and stay accountable to each other on their journey towards their health goals
Be patient with yourself: A 92 year old client who is training over zoom told me "I just push all of the buttons and then my trainer, Heather appears!" Anything new takes a bit of time to learn and master but we will guide you every step of the way.
Start moving and the motivation will come: Seniors often talk to me about not feeling motivated to exercise and especially in a pandemic, this is understandable. The motivation to move won't just arrive one day, you need to make a plan to move, think through your barriers and when you start moving I promise the motivation to keep moving will come.
Join a community: We are social creatures and many of our habits normally come from our community. Get involved in the on-line Vintage Fitness community by attending a webinar which we host every 6 weeks or attending a free group exercise class which we are having during lockdown every Wednesday at 11:00am.
Learn how how to eat to reduce your pain: Here is a link to a recording of a webinar we did with a Holistic Nutritionist: https://www.youtube.com/watch?v=5xlOzlqjrjc
Plan a trip: Many of our clients have a trip that they are dreaming of taking when lockdown is over. They talk to their training about what they would like to do on their trip such as walking up stairs or on the cobblestone streets of Europe and they get their body ready during their personal training sessions.
Record your exercise sessions: A few of our clients are taking advantage of virtual training by recording their sessions and playing them back later in the week to achieve their fitness goals faster.
Don't let technology be a barrier: No problem if you are not tech savvy or you don't have a computer or Wi-Fi. Our trainers can deliver a tablet to you and stand on your porch with a mask on while we make sure you can use it. Have a look at how one client overcame her barrier around technology: https://www.youtube.com/watch?v=xFwRSfS8Ewc&feature=youtu.be
Try it for yourself: Vintage Fitness would like to offer you a free virtual personal training session with a senior's fitness expert. Today could be the day you start on the path to improving your strength, balance, stamina and energy levels.
Book a call to book a free virtual session

Good Luck!
Erin
Vintage Fitness
Vintage Fitness is an in-home personal training company in Toronto, Canada. We specialize in energizing the lives of people over 50 with exercise.