At 85, Chester is stronger and fitter than last year
Senior Fitness Success Story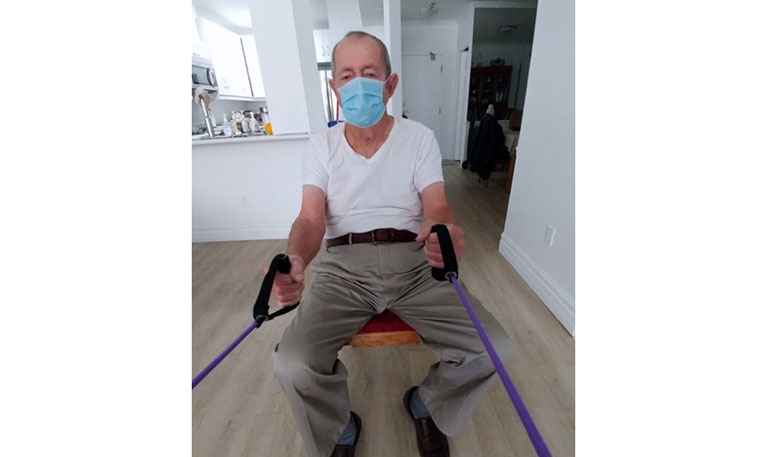 I am so impressed with the progress that Chester and his personal trainer, Bill have made. His agility, core strength, stamina, heart health and confidence have all improved greatly.
Comments from Chester's Trainer Bill:
Chester began training with us in July 2019 when he was 83 years old. He was concerned about his balance, he wanted to be able to walk with a more normal gait, and hoped to improve his golf. He took medications for high blood pressure and to stabilise his heart rate, and one leg was noticeably weaker than the other.
Over the last 18 months he has performed exercises to improve the strength of his upper body, legs, core, and to improve his balance and gait. During the shutdown due to Covid-19 during spring and summer Chester continued with his exercise routine created by Vintage Fitness.
Recently he did a new fitness assessment which showed improvements in every area. On a "get up and go" test to evaluate his balance Chester improved from 13 seconds to 9 seconds. Using a wall plank to test his core strength he went from 35 seconds to 2 minutes. In a 2 minute step test he increased the number of steps from 100 to 152. At the step test end his heart rate was 83 beats per minute and after 2 minutes had fallen to 68 showing excellent recovery. Each of his quadriceps has increased by about 1 cm. each in size. His blood pressure is now an excellent 122/70 leaving me, his trainer, a bit envious.
Chester is more confident in his balance now and regularly goes walking on the trails close to his apartment. Last summer he played 18 holes of golf twice weekly. During the colder months he intends to continue his walks in a local mall and he continues to train with Vintage Fitness.
Book a call to for a free virtual session

Good Luck!
Erin
Vintage Fitness
Vintage Fitness is an in-home personal training company in Toronto, Canada. We specialize in energizing the lives of people over 50 with exercise.