Exercises Around the House to Sneak into Your Day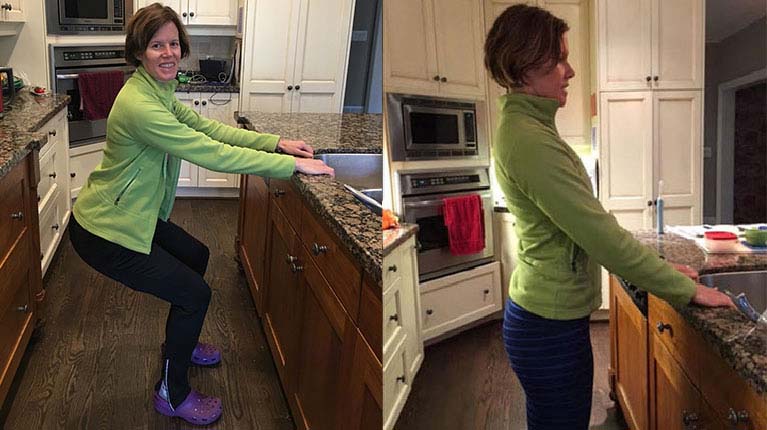 When the winter weather hits in Toronto it is easy to feel stuck at home. Here are a few exercise ideas that you can sneak into your day today.
will help to eliminate the time barrier and your pride at fitting some exercise in will help you to feel more motivated to do more.
I advise clients to have a common trigger in their day to remind them to move. This week your trigger will be when you boil the kettle for tea or brew your coffee.
Sink Squat
Great exercise for strengthening your legs to improve balance and stability.
Sink push up
Develops the strength in your chest and front of the shoulders which is important for any pushing activities such as getting up from the floor and pushing a heavy grocery cart.
Steps ups
Great exercise for strengthening your legs to improve balance and stability. To incorporate some extra brain boosting benefits try stepping up with your non-dominant leg.
Hip Stretch
Most of us are tight in our hips which can lead to low back pain and issues walking properly. This stretch is also great for people that suffer from sciatica.
Stair hamstring stretch
Use your stairs to stretch out the back of your legs and your lower back. This stretch feels great and will improve your walking performance.
If you are interested in a free consultation with a Vintage Fitness 50+ fitness expert drop me a note erin@vintagefitness.ca
What Should I do now?
Virtual Training

Need support?

Want to learn more?

Good Luck!
Erin
Vintage Fitness
Vintage Fitness is an in-home personal training company in Toronto, Canada. We specialize in energizing the lives of people over 50 with exercise.