Client Success Story: Recovering from Hip Replacement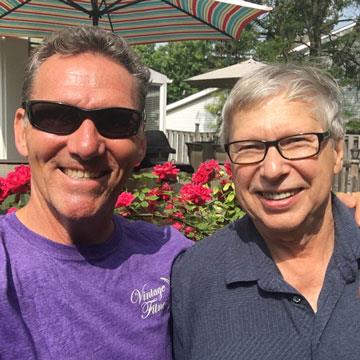 Jim recovers from his hip replacement with the right exercises

Vintage Fitness trainer, Rob, in Brampton has been working with Jim since last October. Jim was scheduled for hip replacement surgery last March but his doctors wanted him to strengthen his body to better function post surgery. Jim was in a lot of pain and very stiff so they focussed on stretching and strengthening the muscles around the hips as well as upper body. Jim came through the surgery with flying colours. He was consistent with his workouts even though there were days that were tough. But always with a smile. He now performs all of his daily activities pain free and is keeping up with his workouts.
Have a look at Jim in action:
Video 1:
Jim Building his Climbing Stair Power at the Park
Video 2:
Leg Cross Over Exercise
Client's Comments
Hi Erin thanks for posting the blog. Since the video I have progressed even more. I am climbing 13 stairs every day in the house as well as doing the chores at home that I could not do before. I don't have enough words to praise Rob, who has provided me with the proper exercises and supervision. I could not have come this far without him. he has meant so much to me. I have posted reviews for Rob before and tried just recently to post one but for some reason it did not go through. I have forwarded the video to my son who enjoyed the progress I was making.
Thanks Once more
Jim
A big congratulations to Jim and his personal trainer, Rob. I am so impressed with how quickly and well Jim has recovered from his hip replacement surgery.
What Should I do now?
Want a free consultation?

Need support?

Want to learn more?
Good Luck!
Erin
Vintage Fitness
Vintage Fitness is an in-home personal training company in Toronto, Canada. We specialize in energizing the lives of people over 50 with exercise.