Physiotherapist Joins Vintage Fitness- Meet Cristina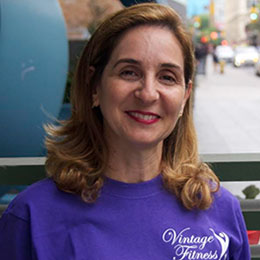 Cristina has 19 years of experience as a Physiotherapist in Brazil specializing in Orthopedics (joint issues, osteoporosis, muscle and tendon pain) and Pelvic floor rehabilitation. She has worked predominately with older adults. Her Fitness and Health Promotion degree taught her how to develop exercise programs, motivate clients develop nutritional guidelines for clients.
Cristina has two teenage boys that keep her on her toes and believes that the key to client results is a trainer that provides tailored plans for unique needs of each client. She is passionate about improving older adults' quality of life with perfect exercise technique. She knows from her 20 years of experience that an active life style will prevent and control obesity that can cause most of chronic diseases like Diabetes, cardiovascular disease, and anxiety.
"My clients achieve their goals because my combination of physiotherapy and fitness training alongside my upbeat style makes sure they are doing the right exercises at the right intensity for their body"
Cristina works in the Etobicoke, Mississauga and Oakville area. If you would like a free consult in your home drop me a note erin@vintagefitness.ca or call Erin at 416-951-7978.
Good Luck!
Erin
Vintage Fitness
Vintage Fitness is an in home personal training company in Toronto, Canada. We specialize in energizing the lives of people over 50 with exercise.