Life Lessons from our Centenarian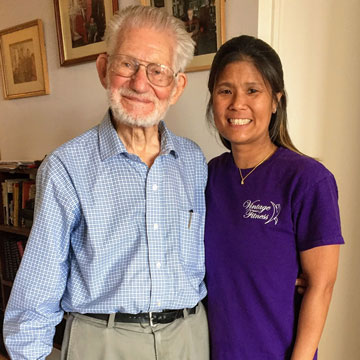 One of our Vintage Fitness personal training clients, Jim, turned 100 this week!!! Jim lives alone in his own condo.
He is a strong, charming man who is engaged and social and doesn't show any signs of slowing down.
Karel, his personal trainer, is amazed and inspired by him.

We asked Jim to let us in on his secrets of successful aging:
brought up on a farm in the quiet and peace of the country side, with lots of hard work, fresh air, and homegrown produce from their kitchen garden.
had supportive and caring parents.
was lucky to find his wonderful soulmate who aspired to have many children (five) who have been so very supportive all his life.
Jim's personal trainer, Karel's thoughts:
* 5 daughters who are all very loving and supportive of him.

REMAINS ACTIVE
walks daily, weather dependent
plays cards three times a week
diligently does his exercise homework
learns new things ... can use a Windows 10 computer to write documents and read email.
Happy 100th birthday Jim. Thank you for inspiring us and showing us what 100 can look like.
Good Luck!
Erin
Vintage Fitness
Vintage Fitness is an in home personal training company in Toronto, Canada. We specialize in energizing the lives of people over 50 with exercise.