Getting up from the floor with sore knees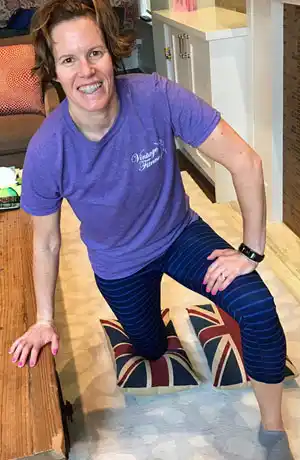 A few months ago I wrote a blog all about exercises to make it easier to get on and off the floor. I emphasized how important it was especially if you live independently to practice getting up and down from the floor.
A Vintage Fitness in home personal training client emailed me and asked how she could practice getting up and off the floor when she has painful knees due to osteoarthritis. This is a common issue that many people face so I decided to do a short video showing how you can use pillows to help lesson the impact on your knees when getting up from the floor.
A few things to keep in mind:
Being able to get off the floor could save your life if you fell and you were on your own
It is an important skill to practice and it requires chest strength, leg strength and balance
If you haven't gotten on to the floor in a while make sure there is someone with you the first time you try
Make sure that there is a secure piece of furniture close to you to take some of the weight off your knees and make getting up easier
A regular strength training program focussing on legs and chest may be needed first before attempting getting down on the floor. If you need help developing the exercise program drop me a note erin@vintagefitness.ca and a 50+ fitness expert from Vintage Fitness can come and help
.
Want to learn more? Book a free virtual training session with a 50+ fitness expert.

Good Luck!
Erin
Vintage Fitness
Vintage Fitness is an in-home personal training company in Toronto, Canada. We specialize in energizing the lives of people over 50 with exercise.