New Vintage Fitness Trainer: Meet Karel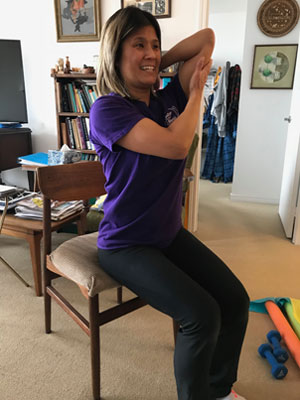 I would like to welcome Karel to the Vintage Fitness personal training team. Karel works in Ajax, Oshawa and Whitby area and is an older adult fitness specialist, an osteoporosis specialist and teaches classes for people with Parkinson's and Arthritis. Her warm personality and wide range of experience training older adults is a wonderful addition to the Vintage Fitness personal training team.
She is an active volunteer, working with Stroke recovery groups and has previous Personal Support Worker experience in various Seniors homes. She therefore recognizes the importance for Older Adults to maintain their flexibility, strength, balance and mobility to remain at home for as long as possible. That combined with healthy food choices can help to promote longevity, ease medical conditions and achieve weight loss goals.
Her second passion is travel. Living abroad for 20 years has given her the unique opportunity to experience cultural immersion in The UK, Gabon, Oman, Russia and The Netherlands.
She brings energy, a positive attitude, patience and a cheerful smile to every session.
.
If you would like a free consultation with Karel or any our amazing Vintage Fitness trainers drop me a note erin@vintagefitness.ca.
Good Luck!
Erin
Vintage Fitness
Vintage Fitness is an in home personal training company in Toronto, Canada. We specialize in energizing the lives of people over 50 with exercise.