Sneaking exercise into your day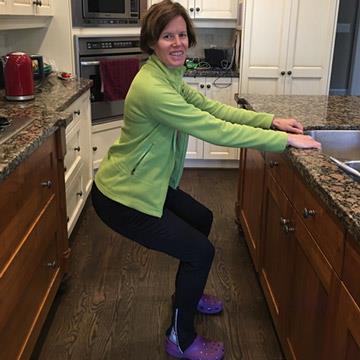 We are surrounded by articles, blogs and scientific research all about the importance of exercise to our health. We know that fitting exercise into our days is critical to our physical and mental health yet 60% of Canadian seniors spend two-thirds of their waking hours sitting.
At Vintage Fitness we have spent 13 years personal training older adults and always start the training process with a 30 minute chat about clients' goals, health challenges and current barriers to exercise.
The most common barriers to exercise that clients mention are:
Lack of motivation
Lack of time
Concern that they will get hurt
Not sure what exercise they should be doing
Over the next 3 weeks I will focus on sneaking exercise into your day without having to carve time out into your day for it or change into exercise clothes. Sneaking exercise into your day will help to eliminate the time barrier and your pride at fitting some exercise in will help you to feel more motivated to do more.
I advise clients to have a common trigger in their day to remind them to move. This week your trigger will be when you boil the kettle for tea or brew your coffee.
1. Sink Squat
Great exercise for strengthening your legs to improve balance and stability.
2. Sink push up
Develops the strength in your chest and front of the shoulders which is important for any pushing activities such as getting up from the floor and pushing a heavy grocery cart.
If you are interested in a free consultation with a Vintage Fitness 50+ fitness expert drop me a note erin@vintagefitness.ca
Good Luck!
Erin
Vintage Fitness
Vintage Fitness is an in home personal training company in Toronto, Canada. We specialize in energizing the lives of people over 50 with exercise.