What to do when exercise resolutions fail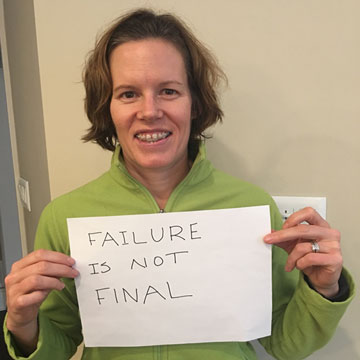 It is a wet, snowy day here in Toronto and we are 12 days into the new year. You are probably well established into your regular routines and the excitement of the health goals that you were hoping for at the start of the year may have dimmed a bit. You are not alone, according to an article in the Huffington Post only 8% of people actually keep their new years resolutions.
Vintage Fitness has a team of 10 personal trainers that are older adult fitness specialists who have been working for the last 12 years helping people achieve their exercise and health goals.
If you feel you have failed on your resolutions try these 5 tips to stay motivated:
Be gentle with yourself: Most of us are our worst critics—think about how you would treat your closest friend if she confided that she was disappointed about giving up on her goals and treat yourself with the same compassion.
Think harder about why you want the goals as opposed to concentrating on the goal. Why do you want to lose 10 pounds? What will you be able to do that you can't do now? How will it feel?
List your barriers: Write down the things that are stopping you from achieving your goal. I am trying to drink less wine and my barriers are:

It is a habit at the end of the day the signals my body to relax
Many of my friends enjoy socializing with wine
It is an easy feeling of escape from the business of life
I don't drink all that much—maybe I don't need to change?

Write a barrier busting plan: Think about your motivation like a muscle—the more you work on it the stronger it gets. We all have times of the day where we have more energy and discipline- make a plan to eliminate your barriers when your motivation is high. Here is my plan

Dump any leftover wine from hosting out in the morning when my motivation is highest
Stick to 4 drinks a week- having them on the weekend when I am most tempted
Do this with a friend and check in with her 3 times a week

Examine your goal:

Is it too broad? "Lose 10 pounds" is a great example of a goal that is too broad
Is it time bound?
Is it realistic
Do you really believe it and care about it?
If you need help setting or achieving your health goals drop me a note erin@vintagefitness.ca
Good Luck
Erin
Vintage Fitness
Vintage Fitness is an in home personal training company in Toronto, Canada. We specialize in energizing the lives of people over 50 with exercise.