Making everyday activities feel easier, 3 of 5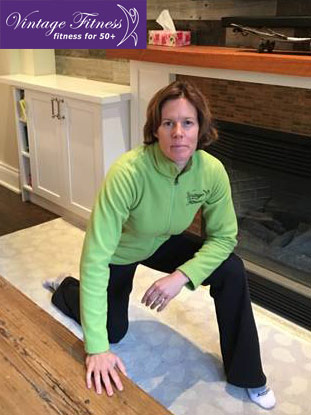 Getting up off the floor
This is week 3 of the blog series "making everyday activities feel easier". The topics are based on 12 years of clients asking Vintage Fitness trainers to help them to do these activities with ease.
This week is about how to easily get up and off the floor. Older Vintage Fitness clients are often nervous of getting up off the floor if they haven't done it for years. It is so important that people that live independently practice this skill. If you or someone in your life needs practice getting up and off the floor drop me a note erin@vintagefitness.ca and a Vintage Fitness trainer (based in Toronto and surrounding areas) will come and help out.
The dog poo pickup
Putting luggage in the OH bin of an airplane
Getting up off the floor
Painting your toenails
Getting out of a deep sofa
Getting up from the floor video
Chest strength, leg strength and balance are important when getting up from the floor. This video goes through the process step by step.
Try these exercises to make getting off the floor easier
Build chest strength
Keep your shoulder relaxed
Stand tall
Try 15
Build leg strength
Do beside the wall if feeling unsteady
Try 10 reps on either leg
Do a small squat if lunges cause knee pain
Improve Balance
Do beside a wall
Keep your core braced (like someone was going to punch you in the stomach)
To make this exercise harder look from side to side when walking
Good Luck
Erin
Vintage Fitness
Vintage Fitness is an in home personal training company in Toronto, Canada. We specialize in energizing the lives of people over 50 with exercise.