Making everyday activities feel easier, 2 of 5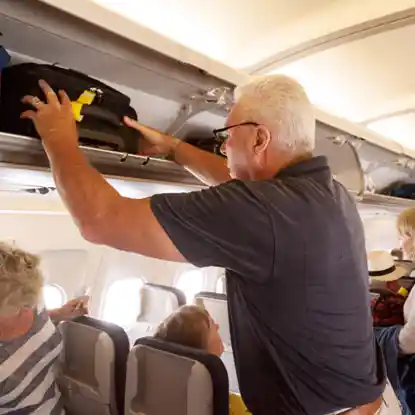 Putting luggage in the overhead bin
This is week 2 of the blog series "making everyday activities feel easier". The topics are based on 12 years of clients asking Vintage Fitness trainers to help them to do these activities with ease.
This week is about how to train to put your luggage or anything heavy in a high cupboard or overhead bin. series is to show clients what exercises they should be doing to make their everyday activities feel effortless. The examples are from current Vintage Fitness personal training clients here in Toronto. If you have something in your life that you need to train for drop me a note erin@vintagefitness.ca.
The dog poo pickup
Putting luggage in the OH bin of an airplane
Getting up off the floor
Painting your toenails
Getting out of a deep sofa
Putting luggage in the OH bin of an airplane
Shoulder strength and flexibility, core strength to protect your back, leg strength and proper lifting technique are all needed to lift something heavy overhead.
When you lift overhead remember to
Brace your core (pretend that someone is about to punch you in the stomach)
Use your legs to lift the bag- it shouldn't be all upper body
Don't arch your lower back as you lift
Try these exercises to make lifting your luggage in the OH bin easier
Build leg and back strength
Brace your core
Stand tall
Try 15
Build shoulder strength
You can use an exercise band or hand weights
Try 15 reps
Imitate the motion of lifting something overhead
Good Luck
Erin
Vintage Fitness
Vintage Fitness is an in home personal training company in Toronto, Canada. We specialize in energizing the lives of people over 50 with exercise.