Making everyday activities feel easier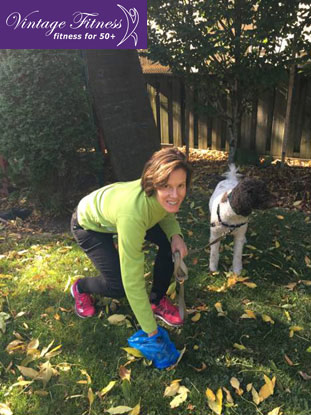 The dog poo pickup
One of the main reasons the exercise makes sense even for someone who has an active lifestyle is to make everyday activities feel easy. It is tiring for grocery shopping, errands, travelling and taking care of yourself and your home to sap all of your energy and strength.
This blog series is to show clients what exercises they should be doing to make their everyday activities feel effortless. The examples are from current Vintage Fitness personal training clients here in Toronto. If you have something in your life that you need to train for drop me a note erin@vintagefitness.ca.
The dog poo pickup
Putting luggage in the OH bin of an airplane
Getting up off the floor
Painting your toenails
Getting out of a deep sofa
The dog poo pickup Exercise
It takes balance and flexibility to bend down and pick something up off the floor and there is a right way and wrong way to do it.
Bend at the knees not the back
Take your time – if you have a low resting heart rate then sudden changes in position will make you feel dizzy
Tie your dog up or ask someone to hold her before your pick up the poo if you are in danger of tripping on the leash
Try these exercises to improve your balance and leg strength to make it easier to pick things off the floor
Seated Leg extension
Sit with a tall back
Don't use a band to make it easier
Try 15 on either leg
Arm curl with a squat
You can do this exercise against the wall if you don't have a ball
Take a big step away from the wall so your knees don't go in front of your feet
Try 15 reps
Walk the Line
Do this beside a wall for safety
To make it harder turn your head from side to side or look up and down
Good Luck
Erin
Vintage Fitness
Vintage Fitness is an in home personal training company in Toronto, Canada. We specialize in energizing the lives of people over 50 with exercise.