A new way to stretch for active agers - Best Hip Stretches
This is the third week of a six week blog series teaching active agers how to use foam rollers and hard balls to get deep stretches. One of the most common areas of stiffness and knots is in clients hips. The pain often refers to their lower back so if you have lower back pain your issue may be hip tightness.
Our Vintage Fitness personal trainers, who are experts in 50+ fitness find that many clients are hesitant to use these kinds of stretching aids because they are not sure how to use them or they can be tricky to get on and off.
Over the next 6 weeks I will blog about:
The benefits of stretching aids like balls and foam rollers- Friday May 19th
Back stretches using stretching aids- Todays post (Friday May 26)
Hip stretches using stretching aids (great if you have hip pain)- Friday June 2
Leg stretches using stretching aids (will give ways to stretch your hamstrings even if you have bad arthritis in your knees)- Friday June 9
Modified stretches using stretching aids if you can't easily stretch on the floor-Friday June 16
Modified stretches using stretching aids if you have weak wrists- Friday June 23
Hip stretches using stretching aids
IT band release
Benefits of this exercise:
Reduces the tension in your IT band which connects your knee and hip. A tight IT band can contribute to hip and knee pain and misalignment
Tips:
To make this less intense put more weight into the foot on the ground and in your hands
Stop when you find a tight spot to let the foam roller release it
The more that you do it the easier it will feel- the benefits are worth the discomfort
---
Deep Glut Stretch (piriformis)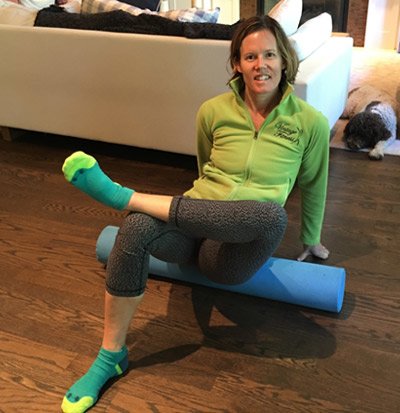 Benefits of this exercise:
Stretch muscles deep in the glutes that are hard to access without the foam roller or a massage therapist. Tight piriformis muscles can be a precursor to sciatic pain.
Tips:
Make the stretch easier by putting less weight in the hip you are stretching or by keeping both feet on the floor
---
Hip Flexor Stretch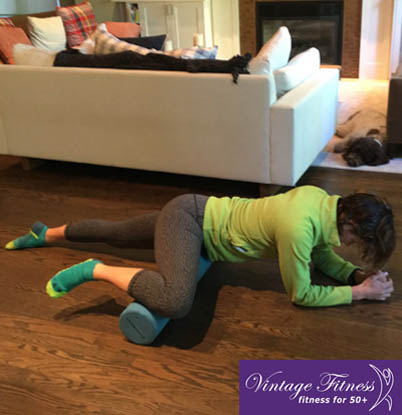 Benefits of this exercise:
Loosen muscles that get tight in the front of hips in people that spend lots of time sitting and in walkers.
Tips:
Tighten your core muscles and don't arch the lower back
---
Good Luck!
Erin
Vintage Fitness
Vintage Fitness is an in home personal training company in Toronto, Canada. We specialize in energizing the lives of people over 50 with exercise.