Exercise for the Demotivated and Time Strapped, Week 3 of 3
Exercise for the demotivated and time-strapped
Week Three
This is the last week of a three week blog series for people that would like simple exercises they can build in their day to day life to improve their flexibility, strength and brain health. This week I cover exercises to do while you are working at your desk and just before you nod off to sleep.
Desk Chest Stretch
Benefits of this exercise:
Stretches tight muscles in the chest and the front of the shoulders which often leads to poor posture
Tips:
Hold the back of your chair with your arms straight and lean forward
If you sit for long periods at your desk do this stretch twice a day holding for 20-30 seconds
---
Seated march (at your desk)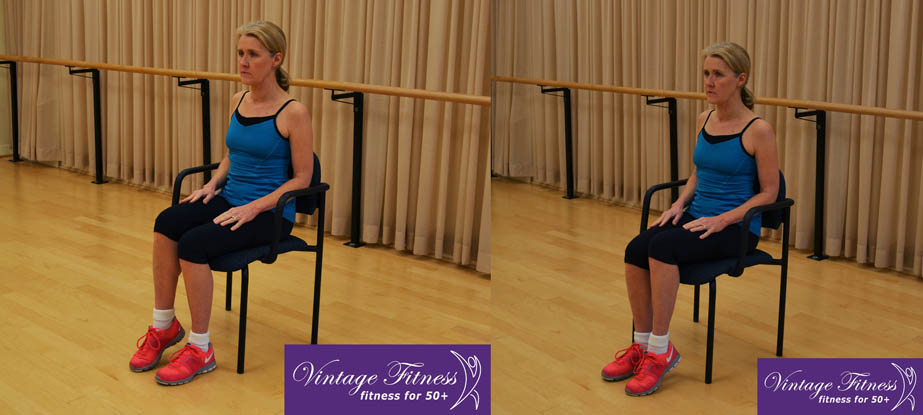 Benefits of this exercise:
Improved circulation in your feet and a bit of cardiovascular work
Tips:
Keep your shoulders relaxed and down
To make it harder keep your back off the back rest and your core muscles engaged
Can do this anytime throughout your work day when you are thinking or waiting on hold
---
Seated back stretch (at your desk)
Benefits of this exercise:
Release tension in the upper back and neck
Tips:
You can also reach both of your hands to one side of the table and then the other to shift the stretch to the back of your shoulders
---
If you would like a free 30 minute consultation with a Vintage Fitness personal trainer drop me a note erin@vintagefitness.ca
Good Luck!
Erin
Vintage Fitness
Vintage Fitness is an in home personal training company in Toronto, Canada. We specialize in energizing the lives of people over 50 with exercise.