Exercise for the Demotivated and Time Strapped
A big thanks to Dani, a Vintage Fitness personal training client that asked for a few exercises that she could do as a part of her day on days she didn't have the time or motivation to do a full exercise program.
This 3 part blog series will give you strength, flexibility and brain health exercises and show you where in your day you can fit them in. This is a great program for people that are thinking that they would like to get more active but can't manage a dedicated slot for exercise or for avid exercisers that would like ideas to include movements into their everyday lives that will build their strength and flexibility. This week I take you through three exercises that even the most demotivated or time strapped person can fit into their morning (the first two you can do in your jammies).
Posture Check While You Make Your Morning Coffee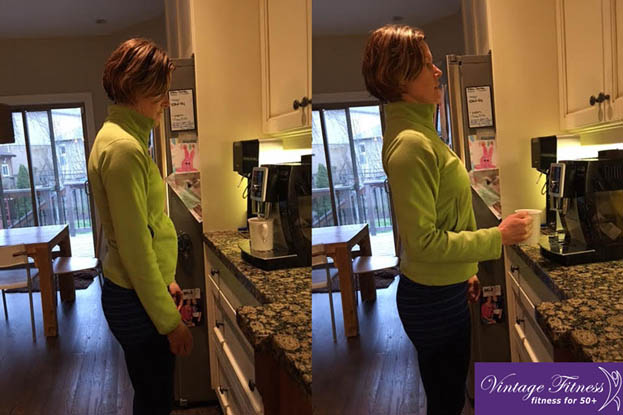 Benefits of the exercise:
Good posture will ease neck and shoulder pain, reduce headaches, make you look and feel more confident and reduce the risk of injury.
Tips:
As you are waiting for your coffee or tea to brew notice if your chin juts forward and your shoulders are slumped.
Slide your chin back and drop your shoulders down and back making a straight line between your ear, shoulder, hip and ankle.
---
Kitchen Sink Squats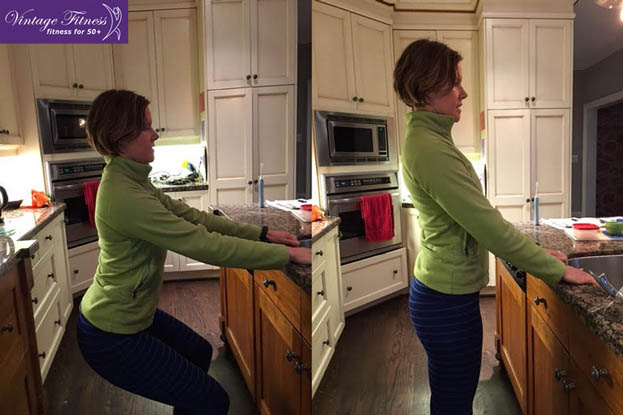 Benefits of the exercise:
Strengthens legs and improves balance
Tips:
If you have arthritis in your knees walk around the house a bit to warm your knees up before doing this exercise
Keep your shoulders relaxed and your chest lifted- holding on to the kitchen sink helps with this
If you feel unsteady put on a pair of shoes to do this exercise
Do a half squat to start to warm your body up
Do 10 squats (or as many as you can fit in as your eggs are cooking behind you)
---
Brushing Your Teeth With Your Non Dominant Hand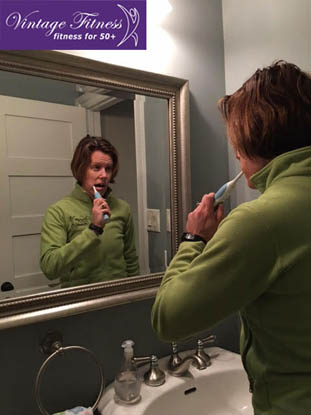 Benefits of the exercise:
Scientific research shows the profound impact that doing activities throughout your day that challenge your brain in new ways can have on your brain health.
Tips:
A few mornings a week brush your teeth with your non dominant hand and notice how hard your brain has to work to make it happen!
Be patient with yourself- it will feel awkward and your dominant hand will desperately want to take over- don't let it
---
Next week I will cover a few simple exercises that you can fit in while you are getting dressed and ready for your day

Want to learn more? Book a free virtual training session with a 50+ fitness expert.

Good Luck!
Erin
Vintage Fitness
Vintage Fitness is an in-home personal training company in Toronto, Canada. We specialize in energizing the lives of people over 50 with exercise.