Balance exercises to prevent falls, 1 of 3
Having good balance is a key part of preventing falls and safely doing all of the activities that you love to do. Many of our Vintage Fitness personal training clients here in Toronto work with our trainers to develop their strength and stability because they feel unsteady, have fallen or have a fear of falling.
I spent the afternoon on Wednesday with an expert in balance, Natalie Pusateri, who has 15 years experience as a physiotherapist that specializes in balance conditions, teaches at the neurological physiotherapy labs at the University of Toronto and consults at the Toronto Rehabilitation Institute. In a nutshell I learned that balance is much more complicated than I thought it was and a proper balance assessment is essential.
As personal trainers we work with clients to strengthen the muscles in their legs, ankles and feet to make them more stable which is an important part of balance. The balance exercises that are often missed are ones that practice balance when we can't see where we are walking such as carrying a laundry basket down the stairs.
For the next 4 weeks I will introduce different exercises that help to train your balance so that you are steady even when you have to look around and when you are on unsteady surfaces.
Make sure that you have a wall near you or a stable chair to hold onto before doing any balance training.
Walk the Line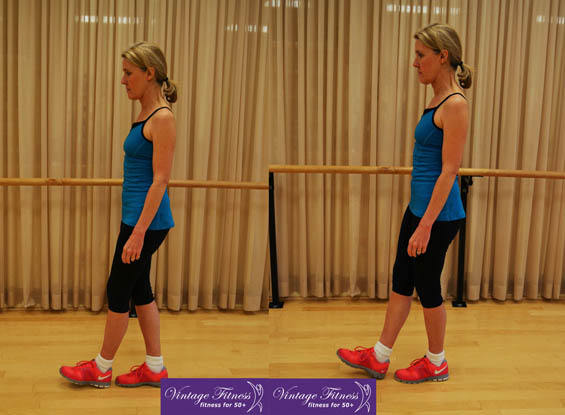 Benefits of the exercise:
Develops strength in the legs and feet and improves balance
Tip:
Once you get used to this exercise try looking up when doing it as well as side to side and notice if you veer to one side or the other or slow down your walking speed.
---
Good Luck!
Erin
Vintage Fitness
Vintage Fitness is an in home personal training company in Toronto, Canada. We specialize in energizing the lives of people over 50 with exercise.