Six free 15 minute at home workouts for adults over 50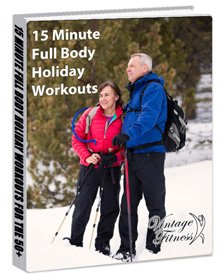 Click here to download e-book "15 Minute Full Body Holiday Workouts for the 50+"
This is a busy time of the year full of parties, shopping and finishing work up for the year. It can be hard to find time to fit exercise in.
I would like to offer you six 15 minute exercise programs to develop your:
Cardiovascular health
Flexibility
De- stress
Interval Training
Balance Training
Calorie Burn
This ebook is free for the month of December but will cost $15 starting in January 2017. If you have any questions about the exercises or would like a free consultation with an in home Vintage Fitness personal trainer drop me a note erin@vintagefitness.ca.
Good Luck,
Vintage Fitness & Spirit50
Phone: 416-951-7978
Vintage Fitness is an in home personal training company in Toronto, Canada. We specialize in energizing the lives of people over 50 with exercise.
Spirit50 is an On-line personal training with an expert in 50+ fitness. Inspiring movement for life.