Exercises for Older Adults to Ease Common Aches and Pains, Stiff Neck
Vintage Fitness personal trainers work with clients to understand where they have pain and design exercise programs to help to ease the pain. This is the third of a four weeks series focusing on common aches and pains that our clients have. If you have questions or would like me to cover a certain topic drop me a note erin@vintagefitness.ca.
Week 3: Stiff Neck
Neck stiffness can make it difficult to do everyday things like checking your blind spot while driving, link to poor posture and can lead to headaches. The neck is where I carry my stress and here is what I have found has helped.
Strengthen muscles in the upper and mid back that support good posture
Regular gentle stretching of the neck and chest muscles
Sleeping on a pillow that keeps my cervical spine (neck) in line with the rest of my spine (making sure my pillow isn't too big or too flat)
Management of stress with daily meditation
Back Row

Benefits of the exercise:
Strengthens the upper and mid back
Tips:
Keep a tall spine
Keep the shoulders relaxed
How many should I do?
---
Chest and Shoulder Stretch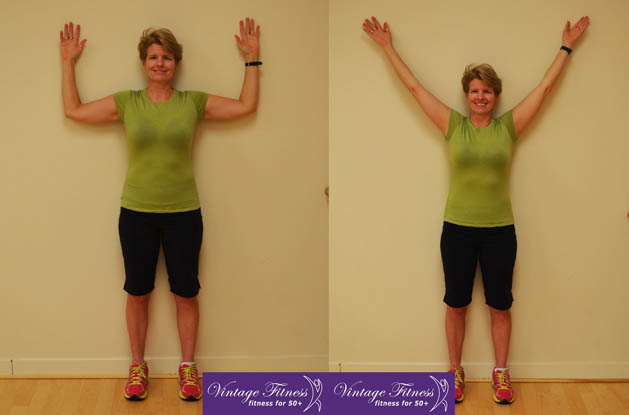 Benefits of the exercise:
Reduces tension in the chest and shoulders which helps to combat slouched shoulders
Tips
Only lift your arms to the level that your shoulders can stay against the wall
Keep the shoulders relaxed
How long should I hold the stretch?
---
Neck Stretch
Benefits of the exercise:
Eases tension and tightness in the neck
Tips:
Look towards you opposite armpit
Adjust the angle of your head until you find the areas of tension
Hold the stretch for 1 minute
How long should I hold the stretch?
---
Good Luck!
Erin
Vintage Fitness
Vintage Fitness is an in home personal training company in Toronto, Canada. We specialize in energizing the lives of people over 50 with exercise.