No equipment exercise program for the 50+ - 8/10
Week Eight of a Ten Week series: Heart health: Enhance your walking routine
Vintage Fitness is an in home personal training company which inspires movement in the 50+ in Toronto.
Clients often ask us for easy exercises which are appropriate for someone over 50 that require minimal equipment which they can do at home or in their condo gym.
This is the eighth week of a ten week blog series filled with exercise pictures and tips. The focus this week is on cardiovascular exercises that are great for the heart, balance and can be done at home on days that it is too cold or rainy to get out for your walk. . These exercises are all low impact buy some of them involve getting down on the floor. If this is too intense for you drop me a note erin@vintagefitness.ca and I will send through some modified exercises.
Toy Solider
Benefits of the exercise:
Develops stamina, stretches hamstrings and is good for brain health
Tips:
Keep a tall spine
Lift the leg to hip height if you can
Do this exercise for 2 minutes
---
Low impact burpees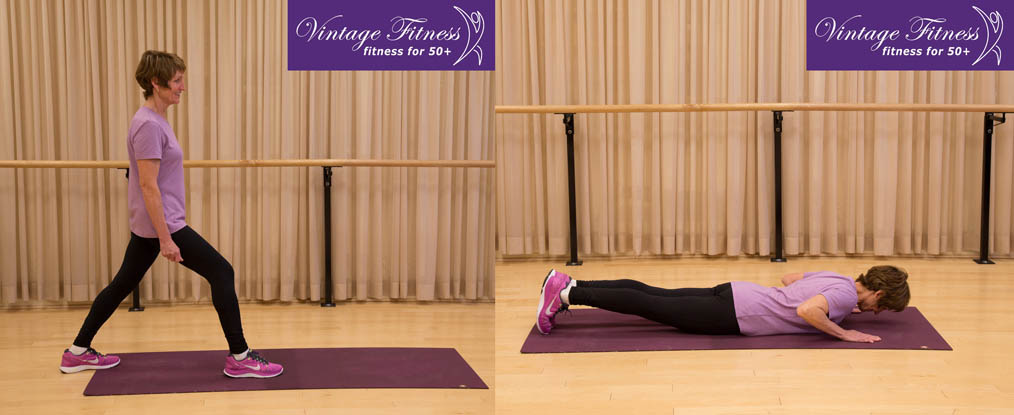 Benefits of the exercise:
Builds stamina, agility and chest strength
Tips
Take your time doing this exercise
Take a big enough step forward that you don't feel knee strain
Do 6 reps
---
Lunges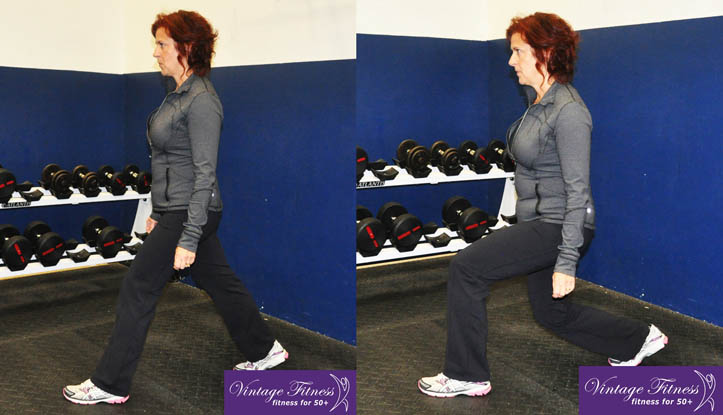 Benefits of the exercise:
Builds leg strength, burns calories and develops balance
Tips:
Do close to a wall in case you loose your balance
Keep the chest and head lifted during this exercise
Aim for a 90 degree angle in both of the knees
Do 8 reps
---
Low impact jacks
Benefits of this exercise:
Develops heart health, co-ordination and shoulder mobility
Tips:
Step as oppose to jumping wide
Keep the core contracted to protect the lower back
Do the exercise 15 times
---
Good Luck!
Erin
Vintage Fitness
Vintage Fitness is an in home personal training company in Toronto, Canada. We specialize in energizing the lives of people over 50 with exercise.