Best walking exercises for the 50+ to welcome spring (1/3)
It is hard to believe it with a temperature of -27 with the wind chill in Toronto today but in a few short weeks spring will be here. Adults 50 plus have a higher risk of becoming injured in the spring because they overdo it with the excitement of the arrival of warmer weather.
Now is the time to get your body ready for spring.
This is the first in a three part series highlighting which exercises are best to do now to avoid injury and make sure that you are ready to enjoy all of the wonderful spring activities such as long walks, gardening and a bit of spring cleaning and organizing.
For Walkers: In this blog I will focus on the most common walking mistakes, exercises to strengthen the muscles needed for long walks and stretches that you should do after walking.
The biggest walking mistake that our personal training team sees is poor posture when walking. Clients often jut their chins forward, which strains their neck and shoulders. Tuck your chin in when you walk trying to line your ears up with your shoulders. Nordic walking poles are a great tool that will improve your walking posture. Lorne Opler, a personal trainer with Vintage Fitness is our resident Nordic Pole walking expert and would be happy to get you started with pole walking.
Another mistake that we see regularly is walking routes that never change. Your body gets very efficient if have the same walking route day after day, year after year which means it burns less calories and challenges the same muscle groups. Try adding a few hills to your route or having one day which includes a slow long walk and another day which includes a short, fast walk. You should never increase your walking distance more than 20% per week. Sudden jumps in distance will increase your chances for injury—your body needs to slowly work up to it.
To get ready for long spring walks do 10 chair squats twice a day to strength the front of your thighs and hips.
Chair Squats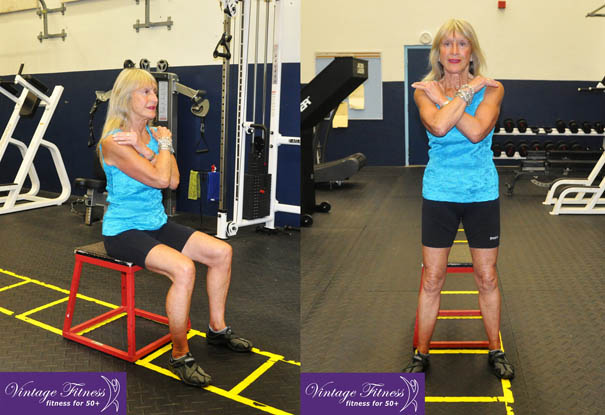 Use hand weights held at your hips to make it harder.
---
Calf Raise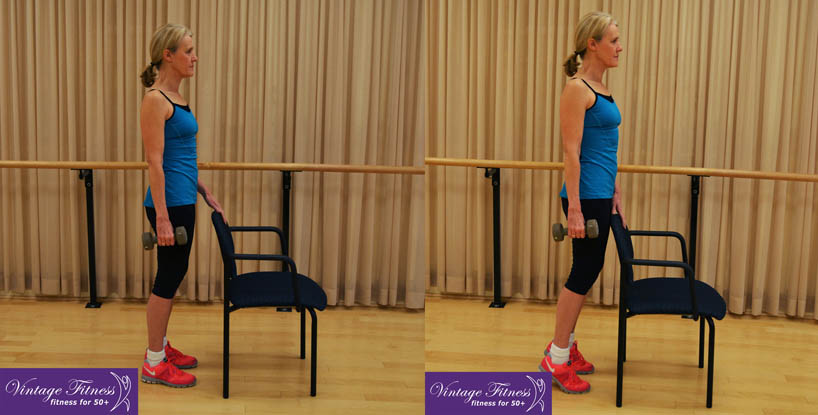 One of the most neglected muscles in the leg is your calf muscles. When you walk, especially up hills, you use your calf muscles. Here is an easy exercise you can do holding on to the back of a park bench if you are outside.
---
Calf Stretch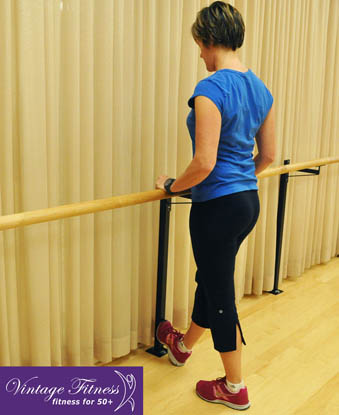 Every time you get back from a walk stretch your calf muscles, especially if you have added a hill to your route. Hold this stretch for 30 seconds.
---
If you would like help getting your body ready for spring drop me a note erin@vintagefitness.ca. If you live in the Greater Toronto Area I can organize a personal trainer who is an expert in 50+ fitness to come and train you at your home. If not try on-line training with Spirit 50. This is a great option if you are away from home, live outside a major city and can't find a personal trainer or personal training doesn't fit in your budget.
Good Luck!
Erin
Vintage Fitness
Vintage Fitness is an in home personal training company in Toronto, Canada. We specialize in energizing the lives of people over 50 with exercise.