Tips to fit stretching into your day

Stretching is one of the most important things that you can do to ease muscle pain and improve your recovery time from one workout to the next. Vintage Fitness trainer, Marlee Giannone, who trains clients in Mississauga and Oakville,is an expert on stretching and older adults. Marlee specializes in therapeutic movement, pressure point muscle and facia release. Her focus is all about working to make her clients feel good when they wake up in the morning.
Here are a few tips to fit stretching into your day:
1. Realize how important it is: Sometimes fitting something in your day is an simple as realizing it should have a higher priority in your life. Regular stretching could ease your tension spots, reduce stress and improve how your perform everyday tasks such as pulling a sweater over your head without shoulder pain.
2. Build in time to do it: When planning your workouts leave time for stretching at the end. If you are a walker plan to do a few stretches on your front porch before heading into the house. The best stretches after a walk are ones that focus on the legs and feet. Here are a few examples for you.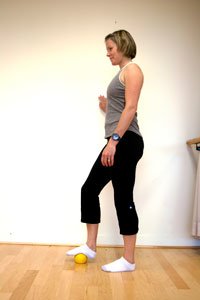 Simply use a tennis ball and roll it under your foot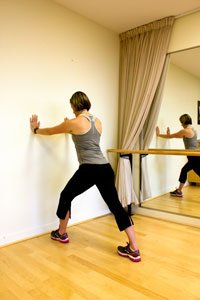 Great stretch for the calf
3. Create stretching opportunities while doing your day to day tasks
Put a light weight favourite snack in a high cupboard where you have to reach and stretch to get it
Put a small footstool underneath your desk and rest your feet on it as you work- this will help to stretch out your hamstrings
Book a one time session with a personal trainer to give you a stretching program. Drop me a note at erin@vintagefitness.ca if you would like to book Marlee or another of the Vintage Fitness trainers.
Good Luck
Erin
Vintage Fitness is an at home personal training company in Toronto for people over 50