How to Turn Your Plans Into Actions!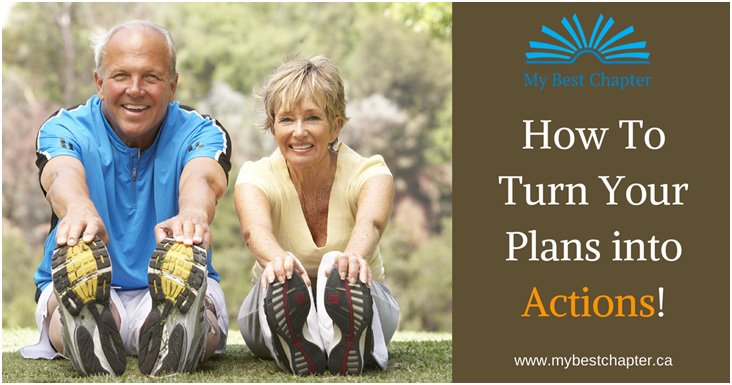 Blog Contributor Avi Mizrahi provide us with a simple yet powerful system to make sure we achieve our goal.
Have you ever set a personal goal for yourself and after a while have those goals just…slip away? Of course you have. We all have. Take New Year's resolutions, for example. Every year, we set some goals for ourselves such as quitting smoking, exercising more, preparing healthy meals, etc.
Unfortunately, for many of us, by the fourth week of January, we find ourselves off course and eventually our goals are abandoned. We'll try again next year, we assure ourselves. And the cycle repeats…
The Time is NOW!
We all know that hours quickly become weeks, and weeks turn into months. Before we know it, a year or two have passed and we're left wondering: "where did all the time go?" Did I make the best use of it? What will I do better in the next 10 years?
TIME is a non-renewable resource. Once today is gone, it is GONE forever and we must now focus on the new day ahead.
Taking Action Can Be Difficult.
Turning plans into reality is hard work. I see it in the work that I do. After the 'honeymoon' phase of retirement, reality sets in. Without the benefits of a set routine, it is not uncommon for people to feel that each day seems the same as the last.
If you are currently working, do you know how you will spend your days after your retirement 'honeymoon' is over? If you are about to transition to your next life chapter, how will you make the best use of your new found time? If you are in your 40's and want to make a career change, how will you go about making it a reality?
You may have heard the saying that "a goal without a plan is just a wish." Well, I think that is true. But, I'd like to take it one step further:
A plan without action is just a shame.
So, let's assume you have a Retirement Financial Plan (read my previous post on why a financial plan is NOT a retirement plan) and are on your way to finalizing your Retirement Lifestyle Plan. How do you translate that plan into action so that you don't a) waste all that hard work, and b) look back a year from now and wonder where all the time went and become discouraged.
This is a common question I get after my clients have completed the My Best Chapter workbook. It is also a key part of leading a fulfilling retirement. So, for those who want some sure fire ways to make your plans (any plans!) a reality, pay close attention. In this article you will learn five techniques that you can easily use (starting tomorrow!) to help you achieve any goal.
Five Tips to Help You Achieve Your Best Chapter:
1. Focus on a small set of goals.
The more you try to do, the less you will likely accomplish. Stick to 3-4 goals and make sure they are SMART. What does SMART mean?
Specific: Ensure that your goals are very specific so that you know what they will look or feel like when you are done.
Measurable: If you don't know what success looks like, then how will you know that you have achieved it? Pick a measure (quantitative or qualitative) that will let you know you have hit your goal. For example, if you want to start a freelance part-time career, is success having 50 clients in a year or enough work for 15 hours/week? Pick the measure that makes the most sense for you.
Achievable: We all like to have lofty goals, but try to break the big ones down into manageable chunks that you can complete.
Realistic: Be honest with yourself, and keep your goals realistic, otherwise you risk falling short and feeling constant disappointed.
Time sensitive: Set time expectations around your goals so that you don't get stuck in the same place and are always moving the ball up the field.
2. Act on lead measures.
What are lead measures? Simply put, the specific actions that will help you to achieve a goal are your lead measures.
For example, let's say your goal is to improve your zoom lens photography to an advanced level. Well, a lead measure to influence this goal might be to increase the number of shots taken with your zoom lens (more practice & experimentation). So start measuring how many zoom shots (action) you are taking. For example, set a goal to take 100 zoom shots/week. As you take more pictures, your skills will improve, and as your skills improve so will your zoom lens photography. As you can see, lead measures are actions you can influence. They play a key role in predicting the achievement of your goal.
The saying "today's actions are tomorrow's results" really resonates with lead measures. You will be surprised by how focusing on actions that you can influence will help you achieve your goals. This tip is actually at the core of the My Best Chapter plan and we have some great templates that have helped our clients get, and stay, focused on their retirement goals.
3. Review your progress often and adjust when needed.
Let's face it, our progress on achieving our goals will not always be steady. Life is complicated, and sometimes we have to take breaks or detours. Making the time to regularly review your progress is an important step towards success. Through this process, we may discover that we should change our goals. Or, we may set new goals to keep the momentum going.
Scheduling this review time in my calendar, well in advance, has really helped me stay true to this tip. I schedule a one hour meeting with my teams, typically after a major project milestone, to reflect and measure progress on project and performance goals.
In my experience, team members generally appreciate the opportunity to reflect on their achievements, key learnings, and ways to improve for next time. I believe this action will help people perform better individually and as a team to achieve the results they are looking for.
That is the point of this tip. Many people get discouraged and give up when they get off course, but you don't have to. You are now a My Best Chapter community member and what do we do? We dig deep and find ways around road blocks! So, take your plan, decide what you can scale down or change up, to enable you to keep moving forward towards living your Best Chapter!
4. Make commitments publicly.
When we document and share our goals publicly, we are more likely to achieve them. It's not any different for your Retirement goals. As you focus on steps 1-3 above, talk to your spouse, friends, family members, or colleagues about your goals and your progress. This public commitment, along with the act of writing your goals down, will help you stay on track and provide you with insight and support from the people who matter most to you. So, go ahead and share. You just might find that it adds a new level of energy to your daily actions.
5. Celebrate your successes!
It's time to enjoy the fruits of your labour. I always encourage people to celebrate successes, even the small ones. It's a great achievement when you complete or learn something from your lifestyle plan. You are making your retirement Your Best Chapter, and that is worth celebrating. Cheers!
Turning plans into actions process: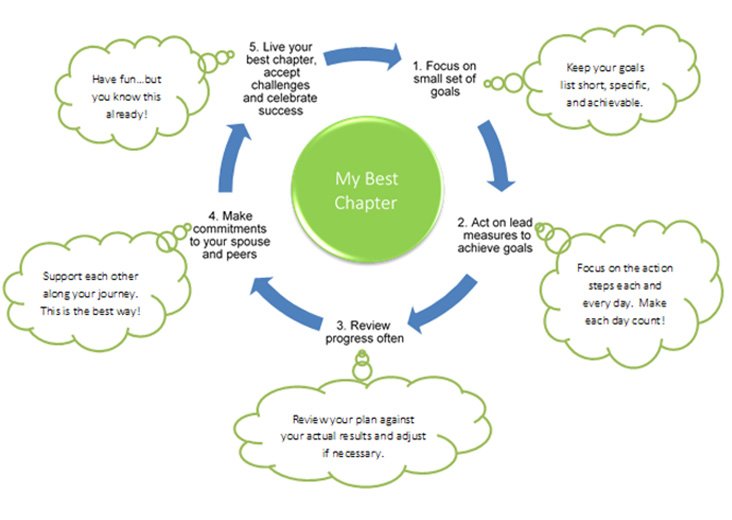 Well, there you have it: some sure fire ways to transition your plans into actions and set yourself up for success. These tips can be used in many areas of your life. If you are still working, they can help your projects and teams. If you are nearing the end of a life chapter, they can help you transition into your Best Chapter
About the Author
Avi Mizrahi is the Co-Founder & Chief Lifestyle Facilitator for My Best Chapter. He started My Best Chapter after seeing firsthand the challenges facing his parents and the parents of close friends of his. He was shocked that they were facing such a challenge in retirement, even though they had a retirement financial plan. He has committed himself to creating a program that will empower anyone with the desire to create a retirement lifestyle plan. He genuinely wants to help people who are approaching, or already retired, to make their next life chapter their Best Chapter.