Exercises to ease lower back and leg pain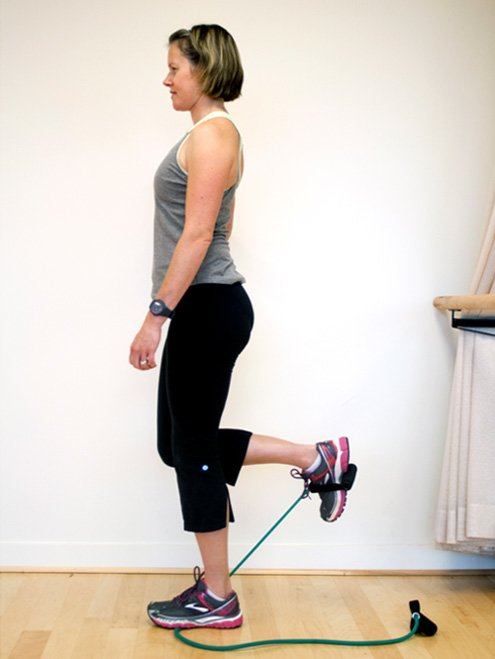 One of the main areas of discomfort for older adult clients is their lower backs and backs of their legs. The cause of their pain is often because their hamstring muscles (back of the upper leg) are weak and tight. These muscles are usually ignored and the body becomes imbalanced with the front of the leg overdeveloped and the backs of the legs under-developed.
An easy way to train your hamstrings at home is by using elastic resistance.
Tips:
stand up tall to start
Do this exercise near a wall in case you lose your balance
Loop or tie the elastic resistance around one foot and step on the band so that you feel resistance when you curl your leg up
Do the exercise 8-10 times on either side
If you need help with this exercise don't hesitate to drop me a note erin@vintagefitness.ca. If you live in the Greater Toronto Area one of the Vintage Fitness trainers can come to your home and set up a full exercise program for you.
Good Luck
Erin Billowits
Vintage Fitness
Vintage Fitness- At home personal training for 50+ in the Greater Toronto Area including Toronto, North York, Etobicoke, Port Credit, Etobicoke, Mid Town Toronto, Rosedale, Forest Hill, Leaside, Lawrence Park, Eglinton West, Oakville, Brampton and Scarborough.
.