Simple Exercises to Start Your Day

Guest Blog: Simple Exercises to Start Your Day
As we get older, we are more tired and usually exercise may not be the first thing on our priority list anymore, and may take the back burner. However; exercise is key to a healthy body and mind; not only will daily exercise help you keep in shape, exercise will also help keep you in good spirits, reduce stress levels and improve your overall mood.
And what time are we most in need of a jolt of endorphins? Bright and early in the morning! Exercise is a great way to start your day. Did you know that exercising before breakfast may even help you lose weight? According to a recent study, exercising in a fasted state is more effective than exercising after a meal.
Sun Salutations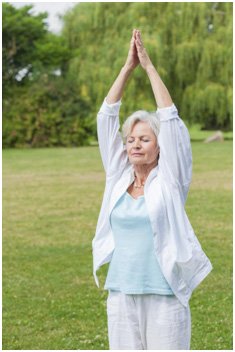 Some relaxing yoga is a great way to start the morning and warm up before exercising. What better pose is there to start with than sun salutations? A sun salutation actually consists of a few poses done in succession with each other.
You begin the pose in "mountain"—standing straight up with your knees slightly bent, and your feet hip-distance apart.
Begin the next pose (half moon) by bringing your arms up and arching your back, reaching your arms up and back, with your hip bones moving forward. Inhale as you do so.
Next, fold forward as you exhale—this stretch is great for releasing tension in the back. Let your arms dangle down to really loosen things up.
After this, you take your right foot back (sounds like the hokey-pokey) into a deep lunge. Your hands should rest on either side of your left knee (held at a 90-degree angle).
After the lunge, bring your left foot back to join your right (hands still firmly planted) and get into plank pose (like you're ready to do a push-up).
Next, it's everyone's favorite—downward dog! Bring your hips towards the ceiling as you shift your weight. This pose is great for loosening up the back and strengthening the core and arms.
After downward dog, you can cycle backwards through all the movements until you get back to the beginning!
Cardio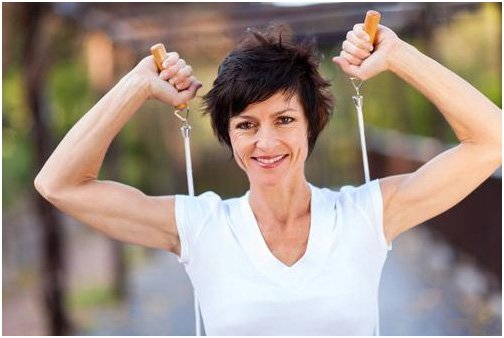 After warming up a little, cardio is another great way to wake up. If you're pressed for time, jumping rope is a really efficient calorie burner (apparently, you can burn more than 150 calories in 15 minutes), plus, you can do it right in your room!
Other popular gym-free cardio exercises i
When I exercise, I like to mix things up—nclude hula-hooping (what a throwback, right?), jumping jacks, high knees and butt kicks.
Strength training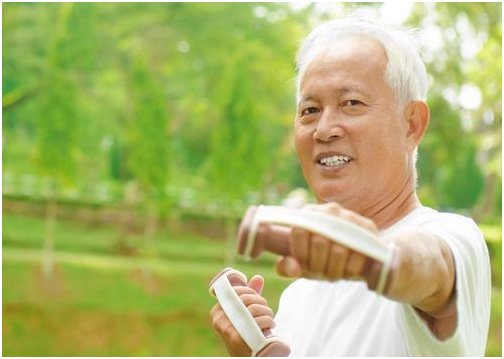 switching off between cardio and strength throughout your workout can really add some spice! One of my favorites is the walking push up: you start standing, then you reach down to your toes. After that, you walk your palms forward until you're in plank position—and then you do a push up. It's a workout for your arms, shoulders and core.
I'm also a fan of squat rows: for squat rows, you'll need 3-5-pound hand weights. I personally like to switch it up—sometimes I'll do a duck squat, sometimes I'll alternate lunge squats and plie squats. Whichever position you choose, you simply hold your arms at your sides (weights in hand), with your elbows at 90-degree angles. Then, you pull your shoulders and arms back in a rowing motion. Doing these arm exercises in conjunction with lower body strength training makes it a whole-body workout!
Exercising in the morning has many benefits: it'll wake you up, it'll get your blood pumping, and it's a great way to burn calories--that's enough to get me out of bed in the morning!
About the Author
Tara Heath is a journalist from Southern California who likes to educate others on a variety of health & wellness topics, from alternative medicine to beauty and fitness. She personally practices yoga each day as well as maintains a healthy diet to keep her mind and body performing at their best. To check out more of her work add her on Google+!