Grandparents have a lot to teach their grandkids about exercise

This week a blog by Colin Milner, the president of the international council on active aging, was sent through to me all about how much grandparents have to teach their grandkids about exercise and healthy living. Read through the article and think about what you could do with your grandkids to keep them active:
- Start a vegetable garden with them
- Go on a weekly bike ride
- Take a cooking class together
If you are interested in an exercise class that includes you and your grandkids here in Toronto, Canada let me know and I will set one up.
Good Luck
Erin Billowits
Vintage Fitness
Serving all of the Greater Toronto Area including Burlington, Oakville, Mississauga, Newmarket, Brampton

A Chip Off The Old Block
BY COLIN MILNER ON SEPTEMBER 7, 2011
Want to help kids get fit? Get their grandparents in on the act!
What could a newborn have in common with a 21-year-old, a 45-year-old, a 68-year-old and even a 92-year-old? They're all different generations of the same family. At the turn of the 20th century, when people had a shorter lifespan, these family members may never have come to know each other. But today, according to the Centers for Disease Control and Prevention, the average length of life is at an all-time high. Males born in 2002 can expect to live to 74.7 years, and women born the same year can look forward to living to 79.9 years, up from 74.4 and 79.8, respectively, from 2001 (Child Trends DataBank 2004).
Yet even as longevity rates rise, a report from the Fabian Society in Britain suggests that children's poor eating habits could result in them living shorter lives than their parents (Stoate 2002). Is the trend toward longer life now in jeopardy? Considering the rise in childhood obesity and the waves of early chronic conditions, such as diabetes and osteoporosis, that argument could certainly be made. But does the future have to be that bleak?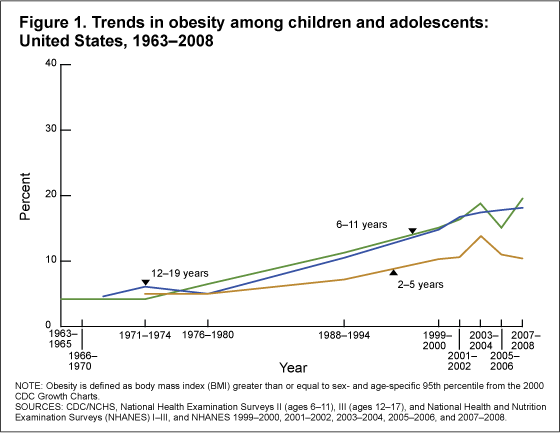 Image via Wikipedia

Where to Start
The solution to this looming health crisis may well lie with those who are experiencing longer lives—the grandparents. According to a survey conducted for AARP, grandparents reported sharing a number of roles with parents in children's lives, including teaching children values, entertaining them and listening to their problems. Research from Georgia State and Duke Universities supports these findings, showing that grandparents are more involved in their children's lives than ever before (Chu 2004) . Part of this shift is probably due to the fact that today's older Americans are spending about 20 years longer than the previous generation in the grandparent roll–and they take that role seriously.
Grandchildren bring love, laughter, youthfulness, energy and purpose to the lives of their grandparents. At the same time, grandparents provide maturity, knowledge, stability and unconditional love in the lives of their grandchildren. In many cases grandparents also represent the keepers of family history and values, making them potential role models for the younger generation.


Children are the future, but if we don't do something about their current health status, their future may be shorter than that of previous generations. By enlisting the help of older adults with activity that meets the needs of both generations, we give children a link to the past and a more positive perception of aging, and we give them and their grandparents a brighter, healthier and more fulfilling future.
By Colin Milner, founder and chief executive officer of the International Council on Active Aging® (ICAA) .